Mi.mag is a new English-language web magazine focused on the culture, entertainment, and style of Milan.
Like our first magazine, Romeing – the main English magazine of Rome, Mi.mag is a 'Live Like a Local' City Guide, for both tourists and expats visiting or living in Milan; however, the quality and authenticity of our editorial content attracts an additional demographic of local Italian readers. This publication offers advertisers, institutions, local authorities, tourism companies, entrepreneurs and retailers an opportunity to speak directly to an exclusive, qualified audience.
Mi.mag è il nuovo web-magazine di eventi e lifestyle in lingua inglese di Milano, con un linguaggio e un'immagine internazionale che si rivolge principalmente ai turisti e agli expat, ma in cui l'utilità dei contenuti garantisce un servizio adatto anche agli utenti italiani. Gemello di Romeing, il principale magazine in inglese di Roma, Mi.mag è una piattaforma di informazione sulla città di Milano: una guida per vivere la città "like a local" con le location più trendy e i posti da non perdere, un'agenda completa e sempre aggiornata a tutti gli appuntamenti ed eventi di cultura e tempo libero in programma a Milano e dintorni, oltre ad una sezione dedicata ad EXPO. Un'importante vetrina commerciale per i nostri Clienti che potranno cosi accedere ad un canale di comunicazione efficace rivolto ad un target di utenti dinamico e con un'alta propensione all'acquisto.
AD SPECIFICATIONS: mimag.it
Size: 970x90pixel
Position: below the slide on the homepage + at the end of the articles
Banner visible on all pages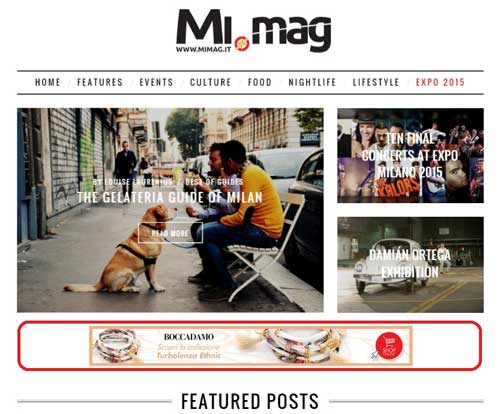 Size: 970x90pixel
Position: body
Banner visible on home page