Milan's Best Of Bookshops Guide
Café culture, or relaxing in an armchair while sipping your coffee for one hour, working on your laptop or thumbing through books for-sale, isn't typically Italian. However, there are some cafés in Milan where you can combine some of these activities in a fully relaxed state of mind, and they have many treasures to be discovered.
CAFÉ-BOOKSTORES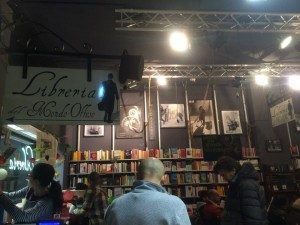 Libreria del Mondo Offeso
Via Cesare Cesariano, 7
Mon- to Fri 8:30am-10pm, Sat 10am-10pm, Closed Sun
Free Wifi
The so-called "Bookshop of the offended world" is a very pleasant neighborhood café-bookshop. On one side there's an Italian-language bookshop, and on the other there is a small café. There is seating inside as well as outside, beside a small neighborhood park. The friendly staff makes you feel right at home.
Directions: About 5 blocks west of the green metro MM2 stop Moscova. Trams 43 and 57.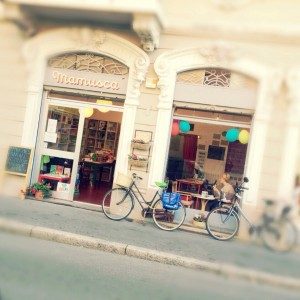 Mamusca | Caffè, Libri e Piccole Cose
Via Bernardo Davanzati, 2
Tues-Fri 7:30-7:30pm; Saturday 9am-7:30pm; Sun 9am-12:30 – Closed Mon
Free Wifi
This café is an artistic, kid-friendly space with community feeling where you come for refreshments, reading, or just to relax. There are Italian-language books for kids and adults that you can pick up and read while sipping a coffee, as well as books for sale. Plan a visit to attend one of their open workshops or play dates for babies, children, and gatherings for adults, or play one of their table games.
Directions: Take the yellow metro MM3 towards Comasina, get off at Dergano and walk 10 minutes to Mamusca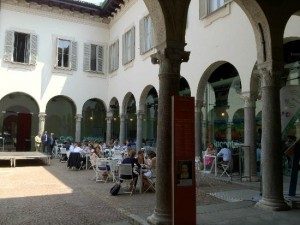 Caffè Letterario at Piccolo Teatro Grassi
Via Rovello, 2
Café open every day 10am- 11:30pm;
bookshop open Tues-Sun 10am-8pm
Free Wifi
Located in the courtyard of the Theater "Piccolo Teatro Grassi," Caffé Letterario provides a classy environment removed from the hubbub of the main tourist path. The theater also has a bookstore off the same courtyard.
Directions: Just 2 blocks from either Cairoli or Cordusio metro stops (red line MM1). Trams 1, 2, 12, 14, 16, 27.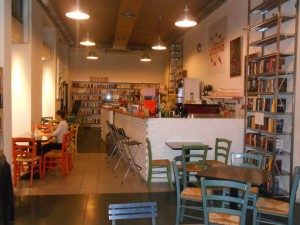 Osteria dell'Utopia
Via Vallazze, 34
Mon 10am-3pm; Tues-Thurs 10am-10pn; Fri & Sat 10am-Midnight; Closed Sun
Free Wifi
This osteria is a place where you can drink coffee, wine, or beer and hang out surrounded by books and cartoon sketches on the wall. The café's ever-changing menu claims to be organic, fair trade, and 0-km. They have moved their bookstore, Libreria Baravaj a few miles away to 2 via Marsala.
Directions: 10-minute walk from Loreto Metro (green line MM2), buses 55 or 81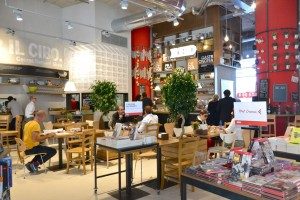 RED | Read Eat Dream
Piazza Gae Aulenti
Mon-Fri 10am-Midnight, Sun 10am-11pm
Free Wifi
Brand new café-bookstore, RED is located on the ground floor of Milan's tallest skyscraper. The bookshop (Feltrinelli)  is a decent size with books organized by themes, and a small section of English-language books. The bar-cafè has seating inside as well as outside in the piazza by the fountain: if you're lucky, you may be witness a low-key water and light show. There are also occasional evening musical events.
Directions: one block east of green MM2 metro station Garibaldi. Trams 37 and 43.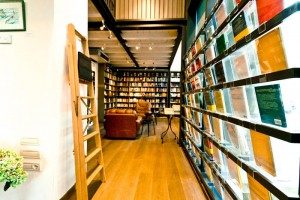 Gogol & Company
Via Savona, 101
Tues – Sun 9am-10pm; Closed Mon
Free Wifi
This is a cozy place to sit and study at the far edge of the Tortona design district. There are places to sit upstairs, including a long desk with a few electrical outlets. Shelves dedicated to English, French and Spanish books, as well as beautiful and interesting selection of graphic novels and art-therapy coloring books line the cozy space. The café downstairs is open from breakfast through to aperitivo. Enjoy their fresh juices, pastries, or try one of their sandwiches, cheese platters and artiginal beers inside or outside in the large open courtyard.
Directions: it's quite a walk from Romolo or Porta Genova (green MM2) metro stations, but you can take the tram 14, buses 50 or 61.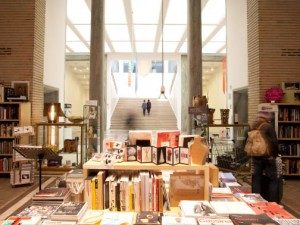 Triennale di Milano Bookshop
Viale Alemagna, 6
Mon-Sun 10am-11pm
Free Wifi
The bookshop of this unique design museum is full of interesting books on architecture and design, as well as English-language books. The café's environment is simple, modern, and elegant with super high ceilings. Calm and quiet seating indoors, as well as a courtyard out the back. On your way out stop by one of the free exhibits.
Directions: it's just a 5-minute walk from Cadorna metro Station (red MM1 and green MM2), and bus 61.
CAFÉ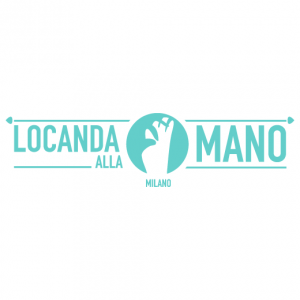 Locanda alla Mano
Piazza del Cannone
Mon-Sun 9am-8pm
Free Wifi
In the middle of Parco Sempione, Milan's large central park, there is a small café where you can sit and enjoy refreshments in good company or while working on your laptop (thanks to outlets built into the tables). Good place to come if you want to work on your computer in the great outdoors of the park.
Directions: behind the Castle, a little to the side of Lanza. You can walk into the park from Lanza (green MM2), Cairoli (red MM1), or Cadorna (red MM1 and green MM2).
BOOKSHOPS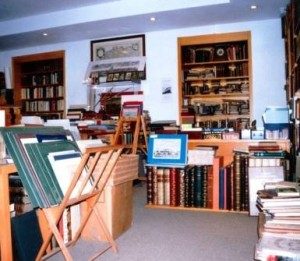 The American Bookstore 
Via Camperio, 16
Mon 1:30-7pm; Tues-Sat 10:30-7pm Closed Sun
This bookshop is full of English language books (new, old, and secondhand); and fun paraphernalia, calendars, and gift ideas from the Anglo-Saxon world. Located a block away from Sforzesco Castle.
Directions: Cairoli (red line MM1). Trams 1 and 4, and Buses 57 and 61.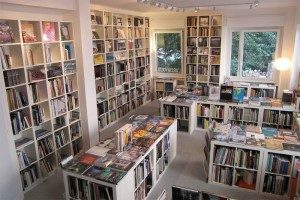 L'Archivolto | Bookshop gallery
Via Marsala, 3
Mon-Fri 9am-1pm / 2pm-6:30pm
Free Wifi
This is where you come to find a book on some branch of architecture/design. The environment isn't cozy but it is inspiring, and they have the most vast selection of books on urban, artistic, and garden architecture, and design, in all of Italy.
Directions: 2 blocks from Moscova (green line MM2). Bus 43, 94.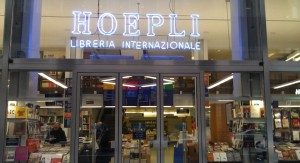 Hoepli Libreria Internazionale
Via Ulrica Hoepli, 5
Mon-Sat 10am-7:30pm; Closed Sun
This massive 5-story International Bookstore, one of Italy's largest (2 km of full bookshelves), has every kind of book you can imagine. Twenty percent are foreign language and the store has a entire wall dedicated to books in English.
Directions: Just a few blocks from the red MM1 line (Duomo and San Babila) and the yellow MM3 line (Duomo and Montenapoleone).
CAFÉ-BOOKSTORE / CO-WORKING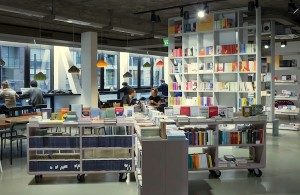 Open
Viale Monte Nero, 6
Mon-Fri 10am-9pm; Sat & Sun 10am-8pm
Free Wifi
This is a cool co-working environment that has a bookshop and Café open to the public. If you stay more than 1-2 hours; however, they will ask you to consider signing up for a study space. If you need a place to study regularly, then it could be just what you're looking for (ask for the student annual or weekend prices).
Directions: Next to Porta Romana Metro station (yellow line MM1)