Here I have listed few interesting and amazing designer bar and cafe to enjoy great time in Milan.
Café Trussardi
Piazza della Scala, 5
Monday-Friday 7:30am-11pm, Saturday 12pm-11pm, Sunday Closed.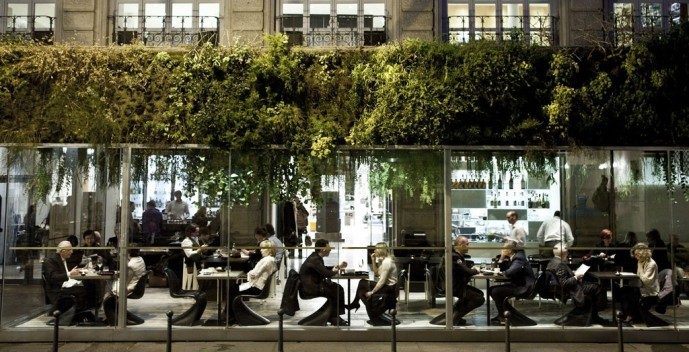 With La Scala in eyesight of this contemporary designer cafe; the atmosphere at Café Trussardi is relaxed and elegant. Through the exposed kitchen area you can see the finest foods being prepared along with innovative cooking techniques. Adjacent to the Trussardi concept store you can feast your eyes on the latest from Trussardi before enjoying a cocktail in their outdoor seating area. The cocktail menu is enough to make anyone want to try each and every one; with a mixture of spirits, juices, chocolates and wines. The mixologists aren't there just to throw a drink together, they are artists and they strive to create the best for you, not to mention they are very friendly and attentive so you feel welcome as soon as you step through the door.
Ceresio 7 Pools by D-Squared
Via Ceresio, 7
Monday Closed, Tuesday-Sunday 9am-12am.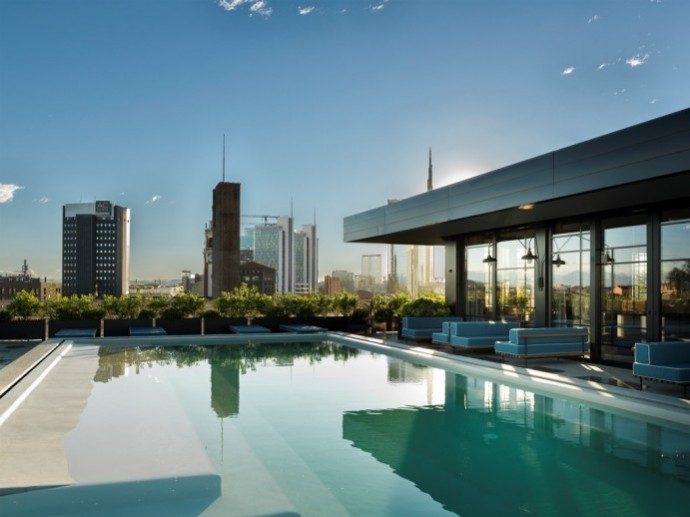 If you want rooftop and a chilled atmosphere this is the perfect stop and a hotspot for those summer evenings to cool off and chill out. Enjoy a meal on the terrace and then move poolside with cocktail or spritz in hand with soft music to accompany the evening. The venue itself is owned by D-Squared so you can imagine a young and trendy crowd flocks here most weekends and evenings for aperitivo. Near the the Corso Como district, the area of Ceresio itself is quiet, but once you step inside the atmosphere and ambience is hip and inviting.
10 Corso Como Café
Corso Como, 10
Monday-Sunday 11am-2am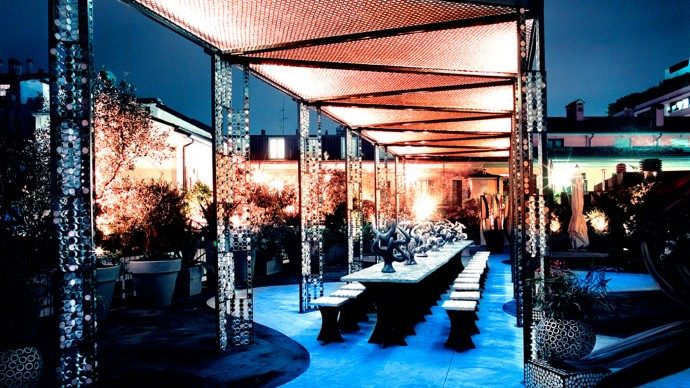 The entrance to this place is not obvious; which is the beauty of it; a little Milanese fairytale. Corso Como has long been a happening area for fashionable people to socialise in Milan. When you step inside this café you suddenly don't feel like you are in Milan, covered with trees and greenery you feel like you're in a secret garden surrounded by peace and quiet. If you've experienced the Boutique at 10 Corso Como you know a range of eclectic people can be seen coming and going so if you're there to do anything, enjoy a Negroni and people watch in this fashion retreat!
Bar Martini D&G
Corso Venezia, 15
Monday-Saturday 7:30am-1am Sunday 9am-12am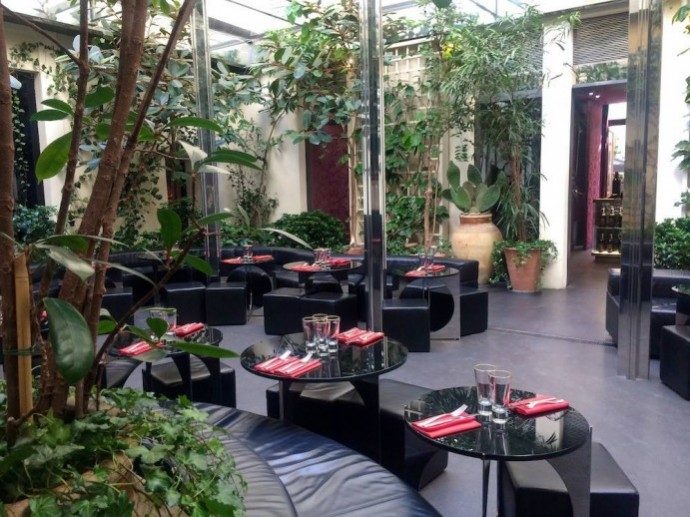 Designer coffee at its finest. A sultry vibe adjacent the Dolce and Gabbana store, this bar is the combination of two of Italy's iconic brands, Martini and D&G. It's tucked away off the busy street with a charming patio and courtyard to enjoy a coffee or spritz along with a 50's style restaurant. Expect the best of the best here; no coffee is served in the normal way, think black espresso cups and stylish plates, but if you're dining with D&G would you expect anything less? An elegant place to get away from the daily hustle and bustle.
Bamboo Bar – Armani Hotels and Resorts
Via Manzoni, 31
Monday-Sunday 9am-1am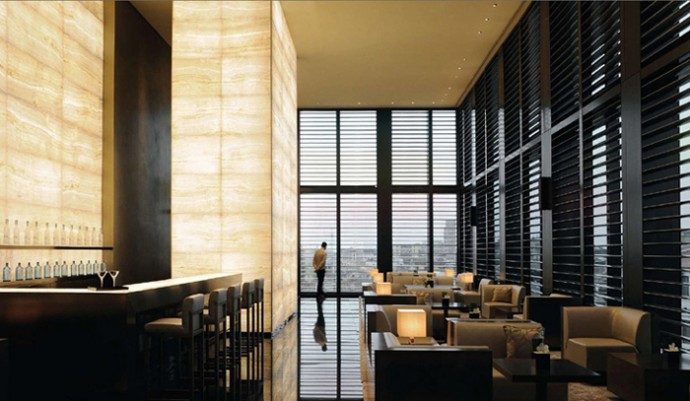 Bamboo is five star luxury. On the 7th floor of Milano's Armani hotel this place is chic and elegant without being too formal. This is another Milanese favourite for its amazing skyline of Milan. With the Duomo in sight, the bar has a typical contemporary Italian style with a calm and serene ambience. There is a restaurant as well, but the venue really boasts its finest at the bar, so if you want to enjoy a drink in peace, this is a designer gem that you will want to try out.
Just Cavalli Club
Via Luigi Camoens
Monday-Sunday Restaurant from 7pm and Club from 11pm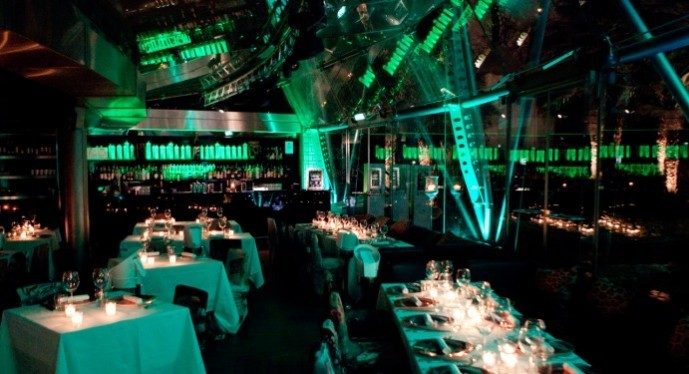 Cavalli's clubbing experience can be found around the world: Miami, Dubai and Puerto Banus, however, the home of the Italian brand is here in Milan. So it might come as no surprise you will find the most fashionable people in the city dancing at Cavalli. If you're into music and want to dance until the early hours this is a great location to do just that and you never know- you could brush shoulders with some celebrities along the way. Located in the beautiful Parco Sempione, the atmosphere is exclusive with a range of cocktails and drinks offered. If you want a lively night and a busy crowd head here.
Armani Nobu
Via Pisoni, 1
Monday-Saturday 12:30pm-2:30pm 7:30pm-11:30pm. Sunday 7:30pm-11:30pm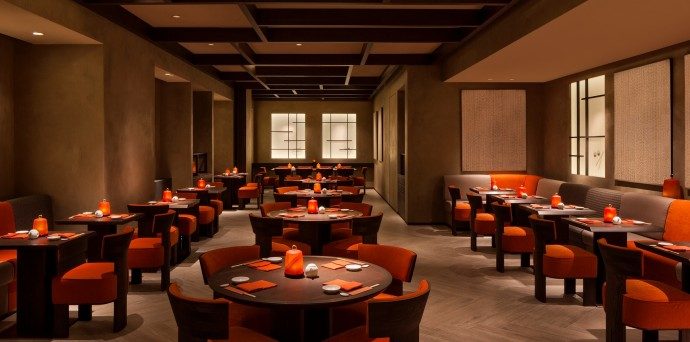 Another one of Armani's retreats in Milan is hidden inside their department store. If you want to try something different from the usual Italian and Mediterranean cuisine, Nobu has a selection of Japanese foods and sushi. With a large dining area the place is usually busy without feeling and crowded. Not to mention you get an amazing sunset view if you are here in the evening. The décor is fresh and modern, and even though you are being served 'Armani Water' the place is still very welcoming and relaxed.