We've sifted through piles of clothing, and scoured the cobble-stoned streets to bring you a curated guide to Milan's vintage stores.
Tim Camino
Via Savona, 17
Price Range: $$
Tim Camino Milano Facebook Page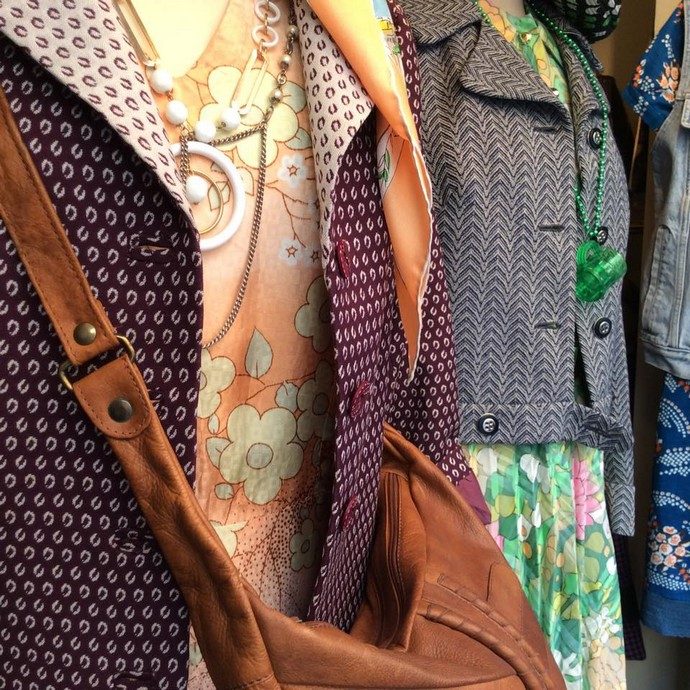 Quaint little vintage shop with retro finds that look right out of Mad Men. Think flowery dresses, great cropped jackets, foulard's for days and funky purses and clutches.
Humana Vintage
Via Cappellari, 3
Price Range $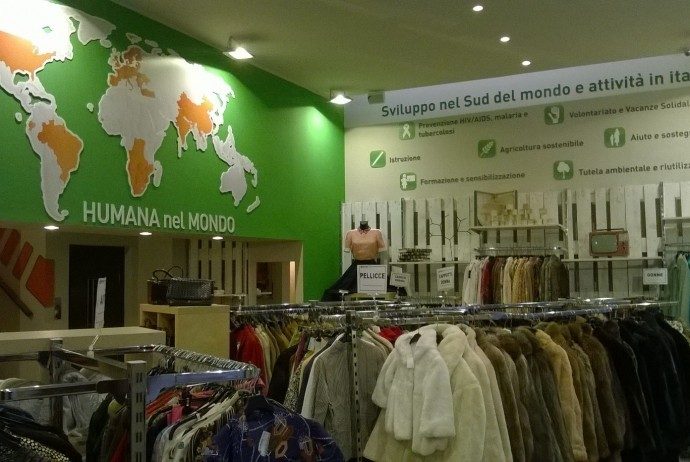 Conveniently located right by the Duomo, HUMANA People to People Italia is a humanitarian organization that uses the proceeds from sales for the development of crucial social and environmental programs in Africa, Asia and Latin America.  With clothing donation points in 46 Italian provinces, HUMANA provides an easy, fun and environmentally friendly opportunity for people throughout Italy to support aid efforts in less developed countries. Humana has  huge selection of men's and women's clothing from the 60's,70's 80's and 90's.  You can find some amazing designer pieces at incredibly low prices here, but you have to dig. Take advantage of Humana's amazing sales that start from 30% off everything to 50% off everything, and the eventual  blow-out "everything for 5 Euros" sale!
Vintage Flea Market on Naviglio
next: May 31 – June 14 and 28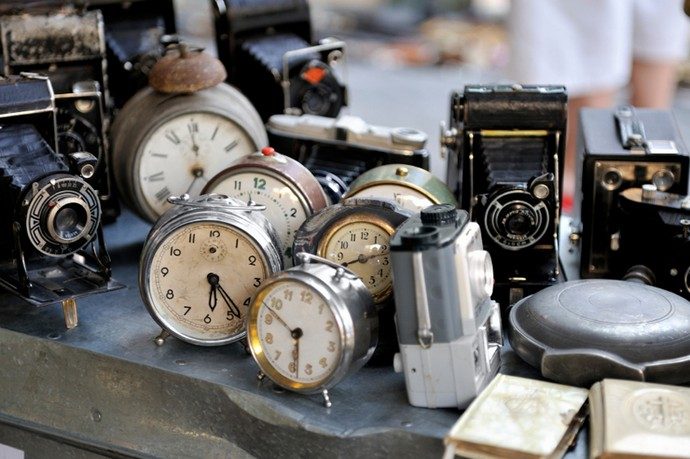 Who doesn't love an outdoor flea market? Usually on the last Sunday of the month, you will find Naviglio Grande packed with vintage furniture, clothing, knick knacks, accessories etc.   The market is like an outdoor vintage museum with professional antique dealers and collectors displaying their unique pieces. Prices vary based on the item and the vendor, but the clothing and accessories can usually be bargained for. Although vintage lovers, aficionados and collectors flock to this 2km long stretch,  this outdoor market's fun location, makes it a great spot to wander through after a Sunday lunch on the Canal.
Cavalli e Nastri
Via Gian Giacomo Mora, 3 – 12 / Via Brera, 2
Price: $$$$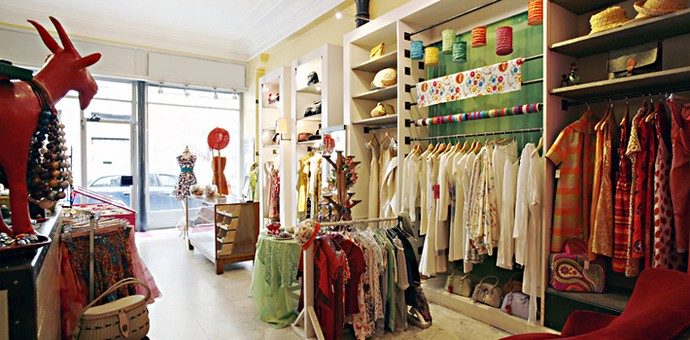 One of the major vintage institutions in Milan, Cavalli e Nastri, has a serious and well-curated collection of Haute Couture and one-of-a-kind designer pieces. The place to go if you want to find an elegant and chic dress for a special event, or if you just want to admire the beautiful, unique clothing and accessories by bygone eras.  Don't expect a bargain though- the prices reflect the clothing's high quality. These major designer works have been steamed, cleaned and restored to their original forms and for those who dream of vintage Haute Couture the clothes are worth the price tag.
Bivio- SECOND HAND
Via Gian Giacomo Mora, 4
Price Range: $$-$$$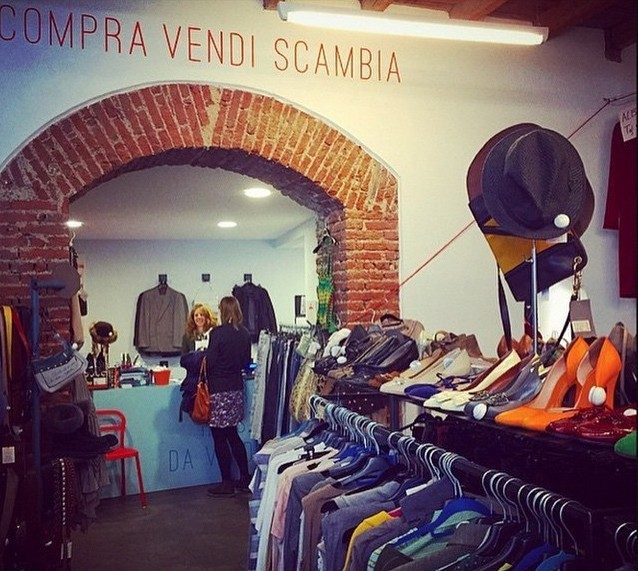 Bivio is one of the few contemporary consignment shops in Milan,  where you can shop for discounted clothing from the last few years.  The large space has a good selection of men's clothing and lightly-worn shoes as well. The women's section has a wide variety of dresses, shirts, jackets, shoes and jeans by designers such as 7 for all mankind, Paige etc.  This is the place you'll find some serious bargains on items you couldn't justify spending money for last season.  Bivio also consigns, and you can make some money on the clothing in your closet you rarely wore- as the saying goes  "one woman's giveaways are another woman's treasure."
Groupies Vintage (by the kilo)
Via Gian Giacomo Mora, 7
Price Range $-$$$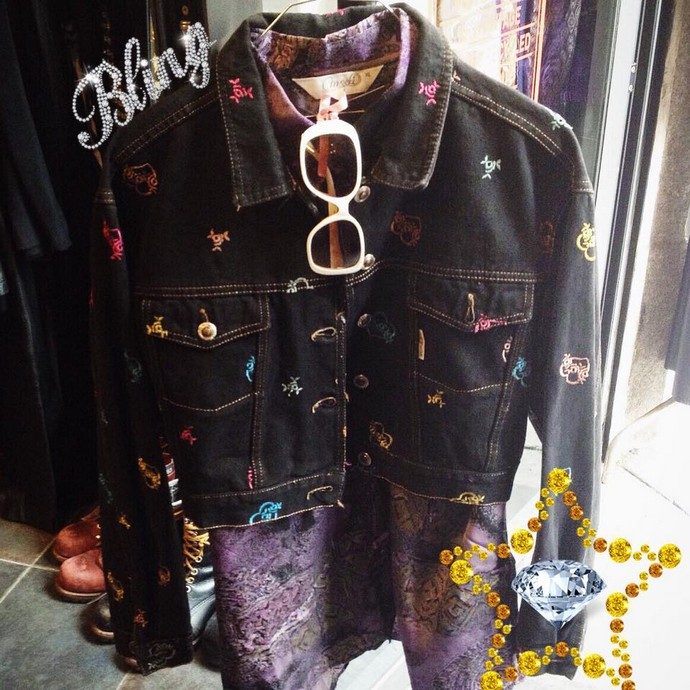 Groupies Vintage is a throwback to the funky, punk style of the 80's. What you'll find: one of the biggest selections of crazy geometric printed shirts (for men and women), awesome leather and embellished denim jackets, loud accessories, chunky platforms, funky costume jewelry…. You get the idea. The style can best be described as mix of 80's Madonna in Desperately Seeking Susan, Fresh Prince of Bel Air, and Clueless.