Christmas is just around the corner, and when this magical time of the year rolls around, we are all in the mood to do Christmas shopping, sip some hot tea or chocolate (peppermint lovers, I see you…), and walk around the city center so we can listen to some Christmas carols and enjoy the magical atmosphere.
If you are lucky enough to be in Milan during the most wonderful time of the year, you probably need to make a list of gifts to give- just like the Old Man Santa.
Oh Bej! Oh Bej!- Oh how nice! Oh how nice!
Castello Sforzesco
December 7th until the following Sunday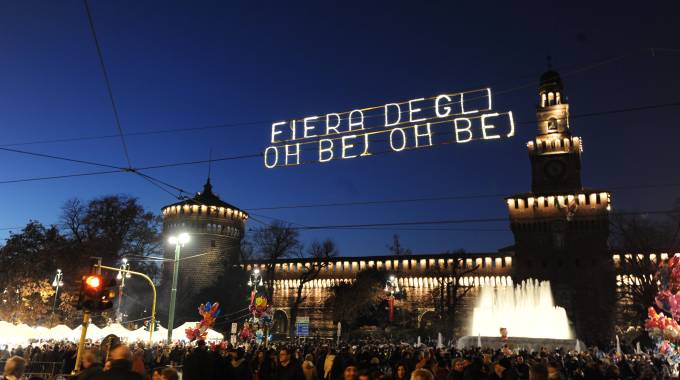 Located around the perimeter of the majestic Castello Sforzesco, Oh Bej! Oh Bej!, is a traditional Milanese Christmas fair, which dates back the 13th century. The "creator" of this tradition was Giannetto Castiglione, who was sent to the big city by Pope Pius IV. Castiglione, in order to thank the citizens, arrived with small gifts and delicacies to give to children. A new tradition was born! Oh Bej! Oh Bej! is held every year from December 7th until the following Sunday.
At the fair, people can purchase typical Christmas decorations- all handmade- sweets, and winter delicacies. Although some people may complain that the quality of the merchandise is not as good as it used to be, I believe this fair is part of the history of Milan. People can still buy quality goods, and enjoy typical Italian delicacies. I honestly believe it is not Christmas in Milan without the Oh Bej! Oh Bej!.
L'artigiano in fiera- Fiera Rho-Pero
FieraMilano Rho-Pero
December 5th to December 13th
10am to 10:30pm (free admittance).
For info, visit the official website: www.artigianoinfiera.it

While the Oh Bej! Oh Bej!  is typical and unique of Milan, "L'artigiano in fiera" goes international. This international fair is located right outside the metro stop Rho-Pero and hosts artisans and craftsmen from all over the world. Yes, it could be considered an international exhibition, and yes, it's huge. At the artigiano in fiera you can find typical goods, foods, arts and crafts, jewelry, and music from all over the world. The fiera is divided into stands: each country gets its own stand that is embellished with merchandise, goods, restaurants, and musical and dance performances—please check out the website if you want to attend a particular performance. L'artigiano in fiera is an excellent choice for you to learn about the Christmas traditions of various foreign countries.
Il Villaggio delle Meraviglie- Christmas wonderland village
Indro Montanelli park
www.villaggiodellemeraviglie.com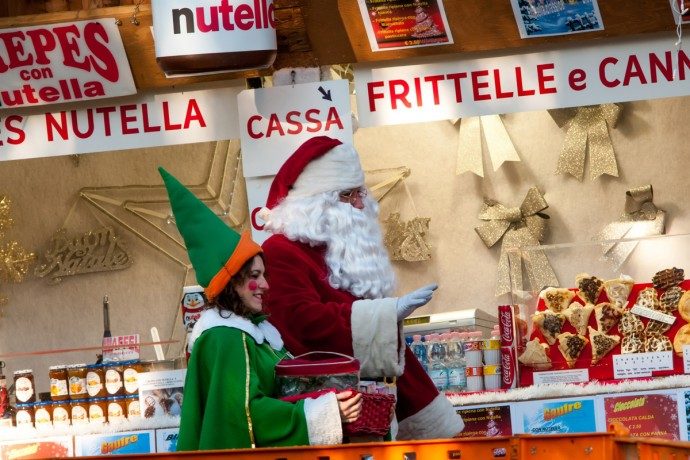 Milan doesn't forget about the little ones. If you are in town with your children, or if you still believe in Santa Claus and his little helpers, a stop at the "Villaggio delle Meraviglie" is the place to go.
Situated in the beautiful Indro Montanelli parks – a few steps behind the Quadrilatero della moda—this magical village is all about Christmas. The villaggio delle meraviglie will bring out your inner child. As soon as you step inside, you'll  wonder whether you are still in the city or if you've been transported to Lapland. At the Villaggio, you can find entertainment for both children and grown-ups.
Children will have the time of their lives on carousels and roller coasters, they can also sit on Santa's lap, and send a Christmas letter. Furthermore, children can pay a visit to the Befana, the other important character of the Italian Christsmas—she is an old lady who comes on the night of January 5th and leaves sweets for nice kids and coal for the naughty ones.
Before leaving, stop at the "slitta degli elfi" (elves' sleigh) to receive candies, candy canes, and other sweets.
Grown-ups can go ice-skating, enjoy winter delicacies, and sip the tasty "vin brulé" (hot wine with spices). The "villaggio delle meraviglie" also organizes special Christmas events. I would like to draw your attention to the "Polentata a sei zampe"—where you can go to the park with your dog and eat "polenta" a dish typical of Northern Italy—and do a "Brindisi di Capodanno"— the perfect occasion to salute the New Year on an ice-skating rink and have a toast with some good "spumante" and "panettone".
The Villaggio delle Meraviglie creates a  beautiful and romantic Christmas atmosphere making it the ideal place to visit with your loved ones. I would suggest you to go at sundown — the park gets even more magical with the Christmas lights on, and you will feel like you're walking in a winter wonderland.
East Market Milan
Via Privata Giovanni Ventura 14
December 12, 13 and 20th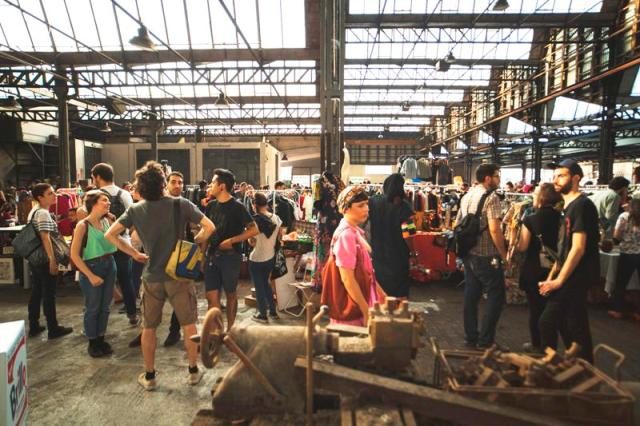 A brand new installation in Milan – it has celebrated its first birthday on November 22nd 2015—will host particular Christmas fairs on December 12, 13 and 20th.
East Market Milan is the first marketplace in the city where everyone is welcome to set a stand and sell their merchandise: antiques, furniture, decorations, and secondhand goods.
The inspiration comes from the East Market London, and it is thought to become a meeting point for young and old people to buy and sell various products. Furthermore, East Market Milan is becoming a great spot for youngsters—especially over the weekend, the Market organizes various events such as concerts, happy hour, and festivals.
Such a great location had to organize something for artisans over the holidays. For Christmas, the East Market will set up Christmas stands where customers can buy Christmas decorations, antiques, curiosities, oddities, and vintage collectables—the perfect Christmas gift for your hipster friends.
It is totally worth a visit: situated in a very curious location—and old engineering company built in World War II – the East Market will give you the feeling of  walking among art and history.
Milan offers special events that go beyond shopping in the most famous locations and shopping malls of the city. If you want to get into the Christmas spirit and spend a couple of hours learning new Christmas traditions with your loved ones, I encourage you to stop by one of above mentioned places, you won't regret it!
Trust us, Milan gets even more magical this time of the year!