Milano touch and go
So you're planning a short trip to Milan? You are probably wondering what to see and where to go. If vacation planning is not for you, but you still want to get the best out of your holiday,  we have a couple of suggestions to help you make the best of your time in Milan.
Fall and spring are the best seasons: the colours, the smells, and the temperature will allow you to have a pleasant and relaxing stay. Winter can be cold and grey, but during Christmas time the atmosphere is magical and romantic. Summer can get hot and humid, (we recommend avoiding August) although there is something to be said for strolling along the Navigli and having an aperitivo in the warm summer.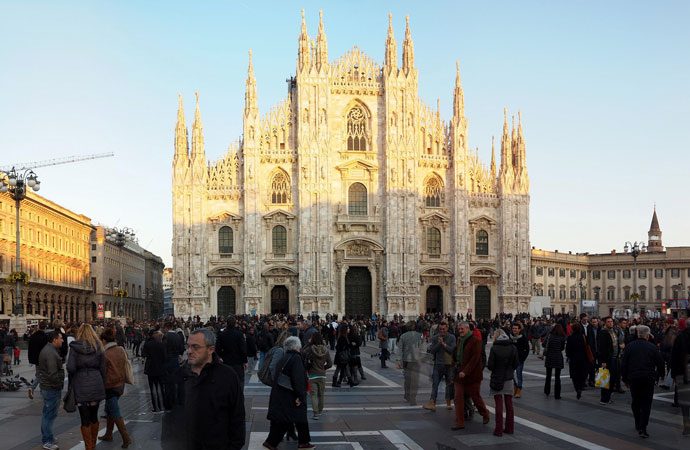 #touchdown
Start your visit at the very heart of the city, the Duomo di Milano.  The famous gothic cathedral is one of the major landmarks of the city and took almost six centuries to complete. The 5th tallest church in the world- and 2nd in Italy, the Duomo was erected in 1762 and designed by Francesco Croce. The top of the Duomo offers a breathtaking panorama, you can climb the 166 stairs for 7€, or take the elevator and pay 12€.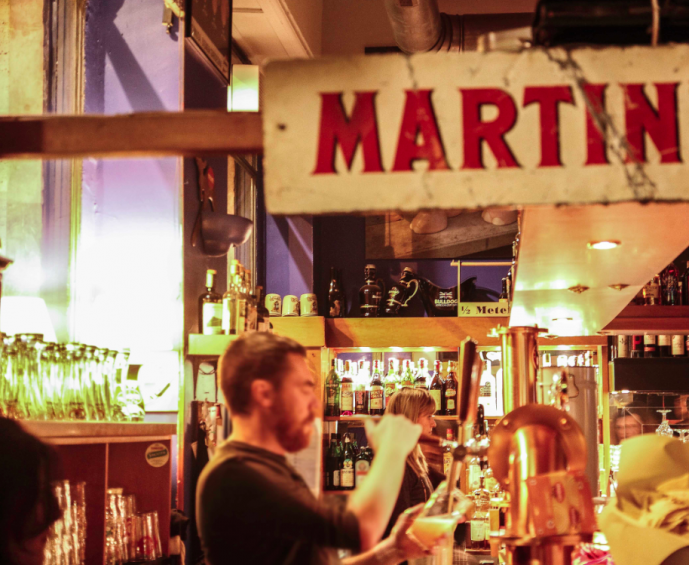 #thehappiesthour
Italy is well known around the world for having created and mastered the art of aperitivo. In Milan aperitivo is considered one of the best ways to end the day in a friendly and relaxing environment, meet up with friends, and establish new business connections.
The price of a typical aperitivo is around 10€, and includes a glass of wine, beer, or cocktail accompanied by appetizers and local delicacies. Navigli is the place to go for aperitivo. The area around the navigli is considered a cool place to hang out with friends, have a couple of drinks or a romantic dinner.
At Slice Café, you can sip a cocktail and eat from a rich buffet for 10€. Slice Café is a characteristic bar on Naviglio Grande, and offers happy hour every day from 6-10pm http://www.slicecafe.it/.
Another must  is Manhattan. The bar is mostly known for its upbeat aperitivo and music, so if you're  looking to have an intimate and romantic rendez-vous, try another spot. For 9€ you get a cocktail and access to their large buffet.
It's not aperitivo if you're not holding  a spritz in your hands. This cocktail was born in northern Italy –Veneto to be precise- and is synonymous with happy hour throughout Italy. If you have never tried one,  stop at Spritz Navigli. Spritz's  lively  aperitivo runs until 10pm, and there is a generous selection of food; plus 10€ to experience your first spritz is a good deal. http://www.spritznavigli.it/.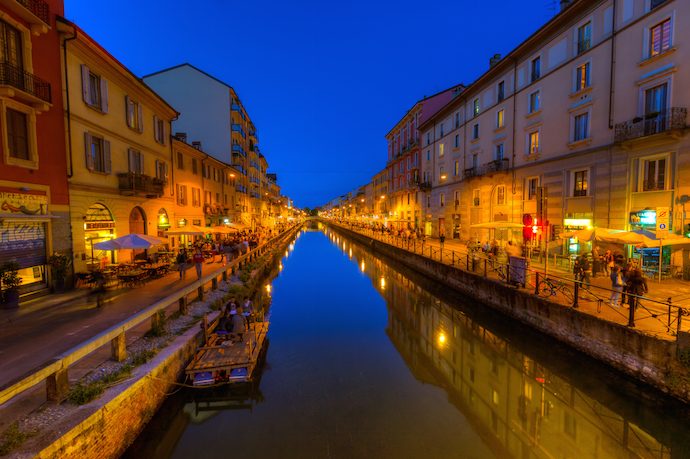 #nightout
If you  feel ready to dance the night away after Happy Hour,  the Navigli has plenty of options.     
La corte dei miracoli is a fun place to hang out with your friends if you want good drinks and live entertainment: they have a delightful cabaret with hilarious stand up comedians.
If you prefer a more relaxed pub with good beers and company, you can stop by La Fontanella. The place is well known for its friendly staff, lovely atmosphere, good food, and beer. Puerto Alegre offers music, exotic cocktails and caraibic dance.
There is an endless list of bars and pubs on the Navigli, so you can always stroll down the canals, and check out multiple spots.
Day two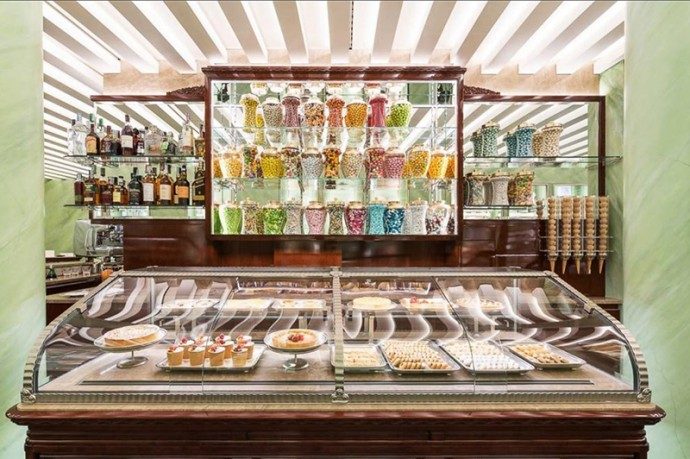 Breakfast in Milan
One of the best bakeries in Milan is Pasticceria Marchesi. Founded in 1824, Marchesi is heaven on earth for people who have a sweet tooth – their cappuccino and croissant are simply delicious, and will give you the right amount of energy to continue your tour of the city. http://www.pasticceriamarchesi.it/index-it.html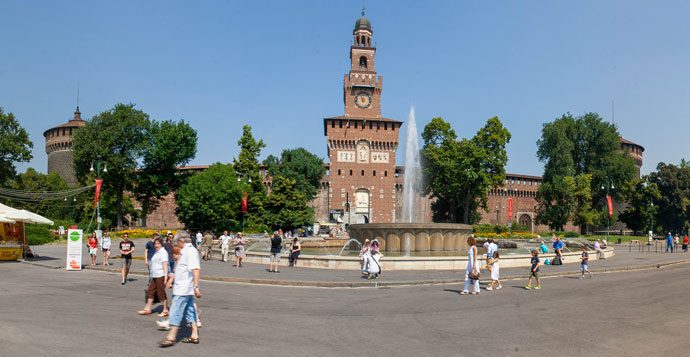 Castello Sforzesco
After consuming a decent dose of sugar from breakfast, you'll have enough energy to walk to Castello Sforzesco. Located behind the entrance to Parco Sempione,  this majestic castle will easily take your breath away. The castle hosts numerous exhibitions and art lectures. If art and design are your passion, visit their official website and get updates about upcoming shows (www.milanocastello.it/en/eventi). You can also schedule a guided tour— they usually start at 9am, at a price of 8€. If you are going with children, check out  "The castle with children" session.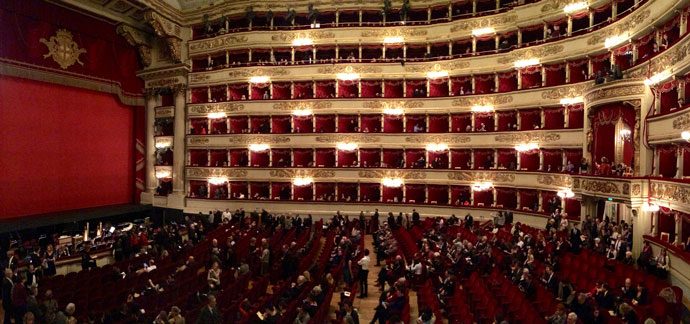 Cultural afternoon
After lunch, spend a couple of hours visiting the historical buildings around Piazza Duomo. The majority of these buildings host art exhibitions and events, and it's worth visiting a couple of them.
Palazzo della Ragione was built as a business center for merchants and notaries, but now it houses famous art and photography exhibitions.
After that, you can walk from Galleria Vittorio Emanuele to Piazza della Scala. La Scala  is considered a cultural symbol of the city and is a renowned worldwide for its operas, ballets and concerts. The greatest artists, musicians, singers, and dancers have performed on its prominent stage. On the official website you can find all the information needed if you want to schedule a visit to the theatre's museum, or if you decide to purchase a ticket for a performance, opera, or ballet.
Palazzo della Ragione: http://palazzodellaragionefotografia.it/.
La Scala: http://www.teatroallascala.org/en/index.html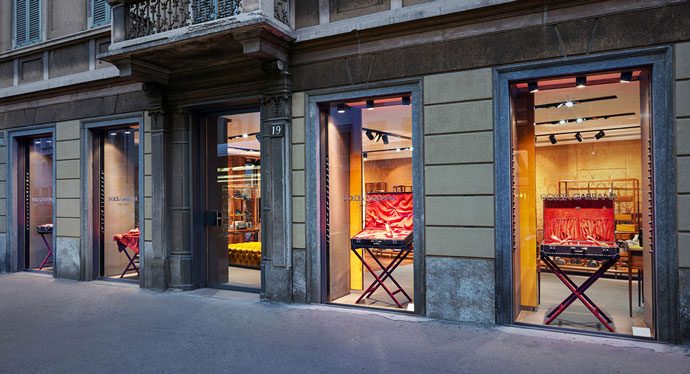 Window shopping
In Milan shopping is sacred. Gucci, Prada, Armani and other famous brands wait for you at the Quadrilatero della Moda.
La Rinascente, situated next to the Duomo, is an elegant department store where you can find men's and women's' clothing and accessories. You can have a coffee in the bar on the top floor and enjoy a beautiful view of the city from its spacious terrace.
You can shop until you drop all around Piazza Duomo; on shop on Corso Sempione and Via Torino for more reasonable prices.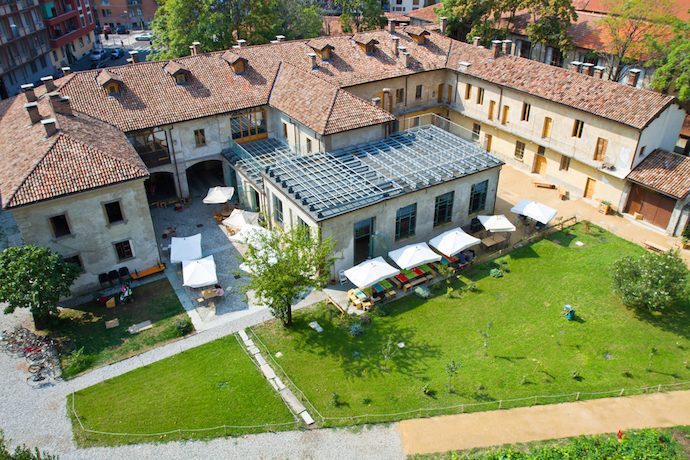 Against tourist menu
At night, dine with the locals. Another area with typical restaurants is Porta Romana. Some Milanese claim that Porta Romana is becoming the coolest neighborhood in the city, and they might be right. This lively, upbeat neighborhood with its cool bars and restaurants is definitely worth a visit.
For a dinner with friends, you can go to Don Juan, which is considered the best Argentinian restaurant in Italy www.menuale.it/ristoranti/milano/DON-JUAN.
Un Posto a Milano prepares its meals carefully following traditional Milanese recipes. The place is an oasis in the centre of Milan, with history, charm, and sustainable food mentality.
If you are a fish and seafood lover, try Lacerba.  If you are a lover of interior decor, the  restaurant's  modern and avant-garde furnishings will blow your mind.
For those who want to spend a more romantic and intimate dinner, La Voliera is the place to go. www.osterialavoliera.it.