At the very center of Milan you find her religious heart: the main cathedral called the "Duomo." It has its own Metro stop on the yellow M3 line. The square in front–Piazza Duomo–is the center of city life; a few steps to the left lead to the so-called "living room of Milan," the great Vittorio Emanuele II Gallery.
Wearing a pointed tiara of pinnacles, the Duomo's size will humble you as it is the second-largest Catholic cathedral in the world, but the largest Gothic church. This incredibly beautiful structure says to a Milanese "you are home." It's beauty is bilingual, speaking bright white glorious majesty in the daytime, and a stunning, intense warmth at night.
If the Duomo's exterior were a cake, her cherry on top is the Madonnina: a gold covered statue of Mary, the mother of Jesus. There is a song about her, anyone will tell you. "O mia bella Madonnina," the chorus goes, "all gold and little, glistens from afar, you rule Milan, under you life is lived…"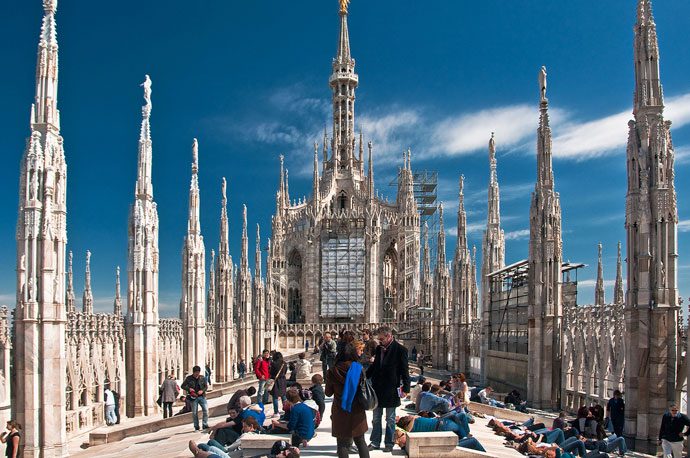 It would take a good deal of time to walk around the Duomo, that is, if you want to try to admire all of its thousands of statues and gargoyles visible on every side from the base. You also can buy a ticket to climb on the roof terrace (13/7 euros for the lift, 8/4 euros on foot) where, if there is a clear sky, you will also get an incredible view of the entire city and a breathtaking sight of the Alps.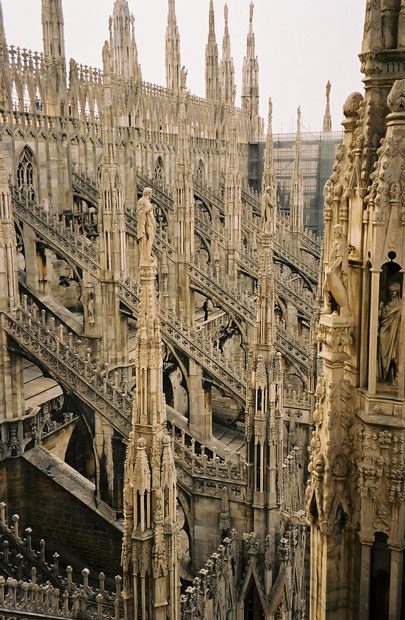 Are you curious yet about the inside? In order to enter, guards will check your bags and make sure you are dressed respectfully (shoulders and legs covered). Then pass by the giant doors covered in art and step inside, prepared to be awed in this space dedicated to worshiping God. The ceiling is like the sky, the walls are galleries, and the midst is the stage of the diocese's sacramental life. Photography is allowed without flash.
If you are not entering to worship, you must purchase a ticket (2 euros), which gives access to the museum as well. There is also an archeological area (ticket 4/2 euros), but you can simplify seeing everything with one all-inclusive ticket, the "Duomo pass" (15/11 euros).
Duomo has a giant "clock," literally, markings on the floor. You know, it makes one think of how much time it has already marked, taking 5 centuries just to be built. Never void of scaffolding, the Duomo remains forevermore a work in progress.
---
Piazza Duomo

TICKETS
For worshipers, the Duomo is free entry every day 7:00 to 19:00
For visitors, a 2-euro ticket gets you into the Cathedral and the Museum
Children under 6 may enter free-of-charge
Duomo Pass, an all-inclusive ticket, costs 15/11 euros and accesses the Cathedral, Museum, Roof Terrace, Archeology area, and Snack Bar in the Sala delle Colonne
TICKET OFFICES
There are 5 locations to buy tickets in Piazza Duomo alone not to mention the Central Station and the Expo Pavilion. The ticket office that is open with most extended hours is the Barge on the North side of the Duomo (Piazza del Duomo, on the side of C.so Vittorio Emanuele II) open every day 8:00-22:00
HOURS
Duomo Cathedral M-F 8:00-22:00; Sat 8:00-16:00 and 19:00-22:00; and Sun 19:00-22:00
Museum opens at 9:30 Tue-Sun, 14:30 on Mondays. Closing time 19:30 M-W, F, Sun; 22:30 Thu and Sat
Roof Terrace 9:00-23:00 every day
Archeological Area 8:00-22:00 every day