Ten of Milan's Prettiest Parks
Whether you need to breathe fresh air, have some nature therapy, or are looking for a place to hang out friends, the moment always arrives when you start looking for a park, a good one. Sure, Milan is teeming with small empty parks: a few benches staring down a lawn and one tree; however, it also has some stunning, inspiring, and active parks that have something for everyone. Enjoy!
Parco Sempione
Piazza Sempione
MM1-Mm2 Cadorna, MM1 Cairoli, or MM2 Lanza
Opening time: June-Sept 6:30am-11:30pm; Oct-Apr 6:30am-9pm; May 6:30am-10pm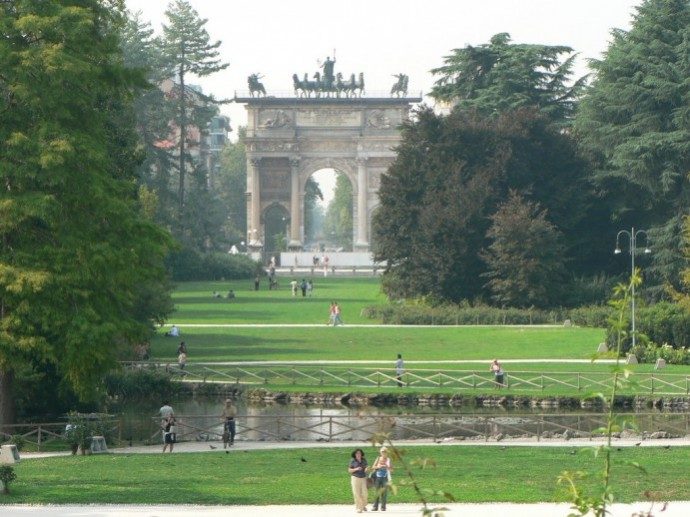 The largest park in Milan's City Center, Sempione is sprawled out between Castle Sforzesco and the Peace Arch. It was established in 1893, and you can picture Victorian era families taking their stroll on the wide meandering paths, with duck ponds and beautiful footbridges. It also contains a neoclassical civic arena, aquarium, theater, library, and work-out equipment. There are several cafés and numerous kiosk-bars.
Darsena
Piazza Ventiquattro Maggio
MM2 Porta Genova
Always open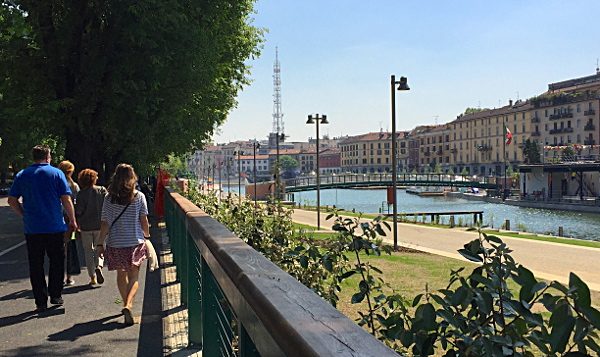 The "Darsena," just off Piazza 24 Maggio, is where Milan's two southern "Grande" and "Pavese" canals meet, and features a space for boats to turn around and dock. After it was rundown and empty for many years, the darsena has been remodeled and re-opened only in the spring of 2015. Some are calling it "Milan's beach," as it begs you to sit and relax on the grassy, pebbly waterfront. While hosting markets, concerts, and special events this summer, it also boasts a permanent marketplace that even stays open late so you and your friends can pick up a bottle of wine to toast your fortune.
Orto Botanico di Brera (Brera Botanical Garden)
Via Privata Fratelli Gabba, 10
MM3 Montenapoleone
Opening Time (until 31st Oct 2015) Mon-Sat 10am-6pm (unless holiday), and one Sunday per month.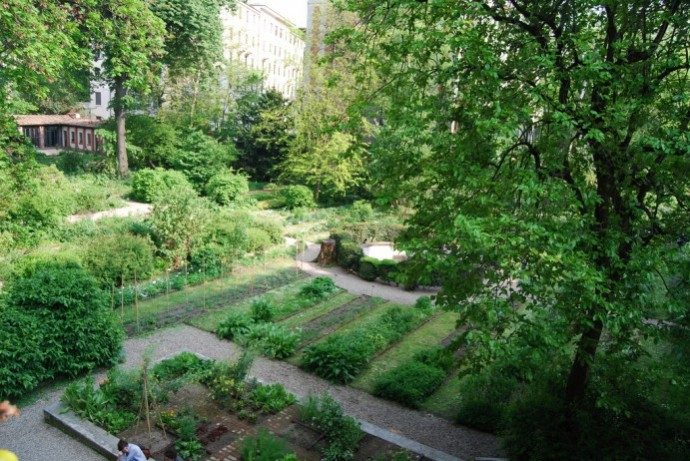 Let's call this Milan's secret garden. It's an enchanting, cool, quiet, green space inside the walls of the Brera Art Academy & Pinacoteca Gallery. In fact, it's part of the same complex, along with the Astronomical museum. You can check out exotic plants and trees, and a fishpond, but the respite from anything and everything else is especially enjoyable.
Giardini Pubblici Indro Montanelli
Entrances: Bastioni di Porta Venezia, via Manin, via Palestro, Corso Venezia
MM1 Palestro or Porta Venezia
Opening Times: June-Sept 6:30am-11:30pm; Oct 6:30am-9pm; Nov-Feb 6.30am-8pm; Mar-Apr 6:30am-9pm; May 6:30am-10pm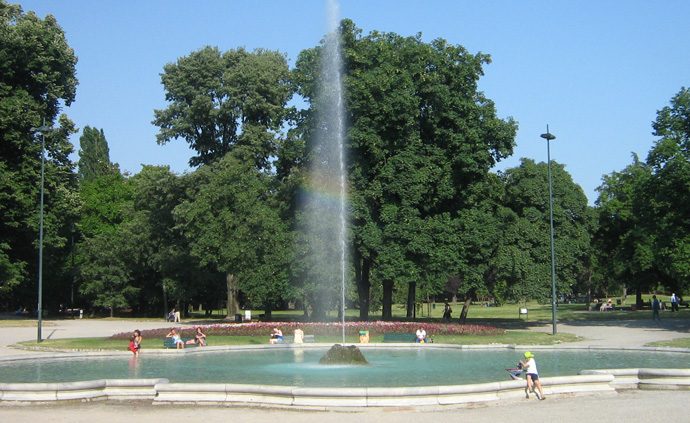 Created in 1784 in line with rationalistic philosophy, the Giardini Pubblici was Milan's first public park. It has a fair amount of tree covering, as well as a rock and cave formation with a waterfall, ducks, a pond with a fountain, and two dog parks. Another space to relax, is the bar-café on the via Palestro side open from 8am-8:30pm. The park also houses the art-deco Hoepli Planetarium and a civic Museum of Natural History.
Parco Papa Giovanni Paolo II (a.k.a. Parco delle Basiliche)
Entrances: via Molino delle Armi, Piazza della Vetra, via Vetere, via Santa Croce
Tram 3, bus 94
Opening Times: May-Sept 6:30am-11pm, Oct-Apr 6:30am-9pm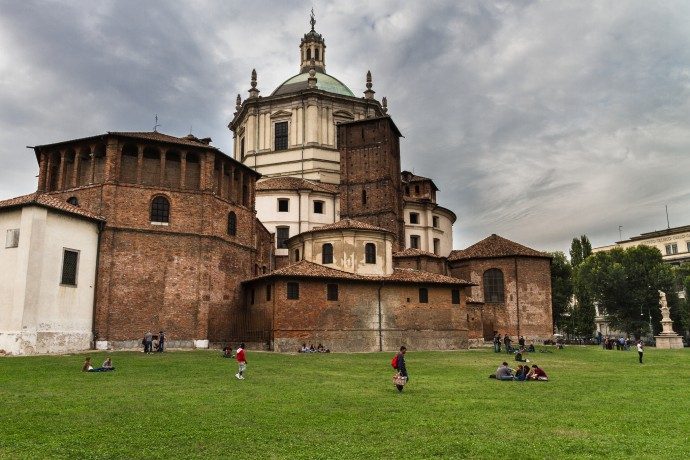 This park runs behind two of Milan's most important and historic basilicas, San Lorenzo and Sant'Eustorgio. It has not been included in this guide because it has some amazing fixtures, but because it is right behind via Torino, a hot spot for shopping, and the Colonne di San Lorenzo, Milan's young late-night hangout spot. So it is good to know that there is a beautiful park with a big grassy lawn right behind these streets. After-dark, the illuminated basilicas give a pleasant warm glow.
Parco Forlanini
Via Arcangelo Corelli, 136
Bus 38, 73
Always open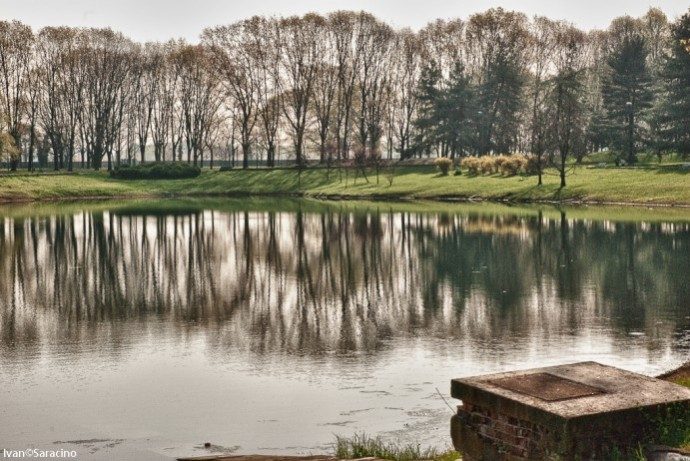 Forlanini is a great place to go running, with its long winding paths. Or go with a big group for a picnic, and play capture-the-flag because it is truly a big empty space full of nothing but green grass and cedar trees. By the entrance there is a sport center, and most the park's sides border farms. There are two kiosk bars, a bocce area and a soccer/football field.
Parco del Portello
Viale Alcide de Gasperi, 21
MM1 QT8
Always open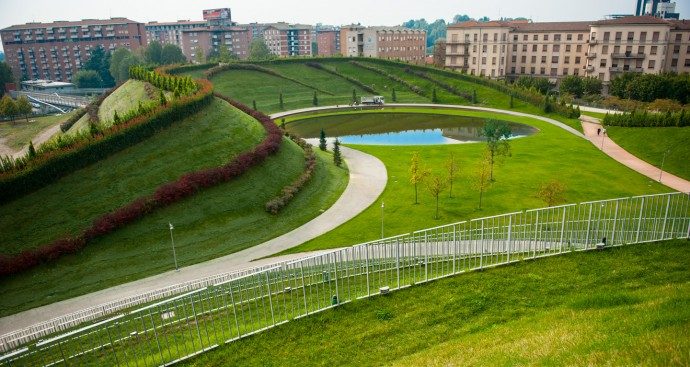 In WWII, this area was a bomb target as it sits on the old Alfa Romeo factory site, which had then begun manufacturing plane engines. This park, now amidst a luxury development, is ultra modern, shaped like two Ss with a characteristic manmade spiral hill, and a pond. The hill, very particular in its look, provokes curiosity from a distance. Ambling along the paths, past the smaller hill with the cherry trees, the pond, amphitheater, and around-and-around and up the hill, you will encounter differences in space, perspective, and movement. What you really should know is that from the peak of the spiral hill, you have an amazing view of both the Milan cityscape as well as the Alps, that is, if it's not foggy.
Parco Nord Milano
Via Giancarlo Clerici, 150 – Sesto San Giovanni
MI (MM1 Cairoli then tram 4 to end of the line)
Always open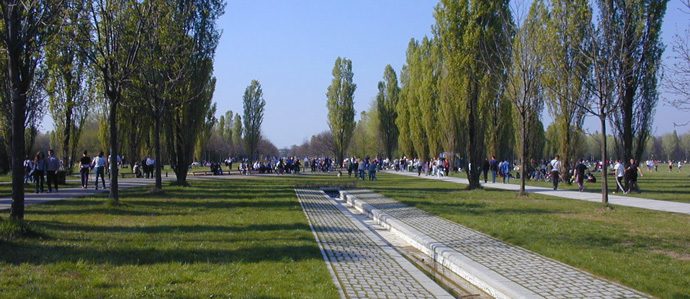 This enormous park was first planned to be inter-city, and became a park of the Lombardy region instead. Defined first of all for the nature, this park is home to all kinds of flora and fauna: great lawn spaces,woods with birds of prey, a marsh with lilies, frogs, and toads, tree lines, hedges, and ponds. There's a kids' area, and various game areas including oversized Chess at the Farm-Cascina Centro Park, a transformed theater, and a noble villa. If walking forever to get into the park has made you hungry, there are a kiosk bar, a pub with live music (via Enrico Fermi), and an agriturismo-restaurant (via Finanzieri d'Italia). For sports, you can use a bocce field, work-out structures, bike paths, basketball court, as well as baseball and soccer/football fields.
Idroscalo
Via Circonvallazione Idroscalo, Riva Ovest
Bus 73
Opening Times: April-Oct 8am-9pm, Nov-Mar 8am-5pm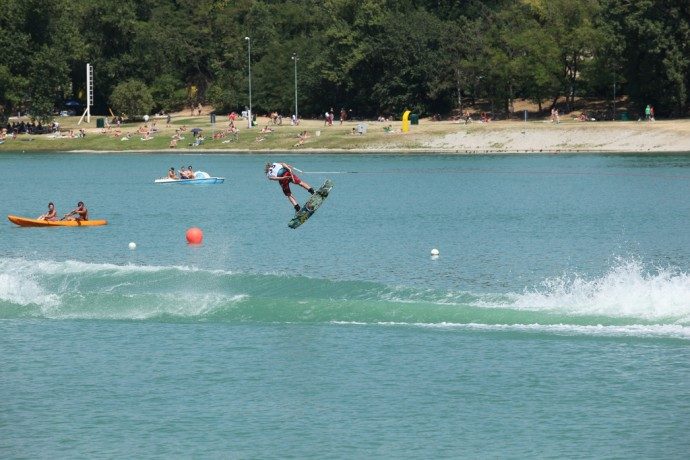 Idroscalo is an unbelievable facility to the east of Milan, by Linate airport. It's called "Milan's sea" because of its enormous manmade spring-fed lake, built in 1930 as an airport for seaplanes. Within the first decade however, its use shifted from aviation to civic sports & recreation, as well as national water sport events. Idroscalo hosts: summer camps; different water sports clubs; and the Pinnaverde association which offers courses in canoeing, sailing, windsurfing, fin swimming. There are two bar/Cafés, two restaurants (one transforms into a nightclub after 10pm), kiosks, paddle boat-rental, bike rental, and two swimming pools, each with their own cafés. Both pools—Punta dell'Est and Villetta—are open 7 days a week from 10am-8pm; M-F €5 (€3 after 5:30pm), and €10 Sa-Su (€6 after 3pm). It also has an art park, theater, adventure parks, butterfly oasis, etc. the list goes on.
Bosco in città
Via Novara, 340
Bus 72
Opening Times: (more or less from sunrise to sunset) Apr-Sep 7:30am-8pm; Oct 7:30am-7pm; Nov 7:30am-5:30pm; Dec-Jan 8:30-5:30pm; Feb 7:30-6:30pm; Mar 7:30am-7pm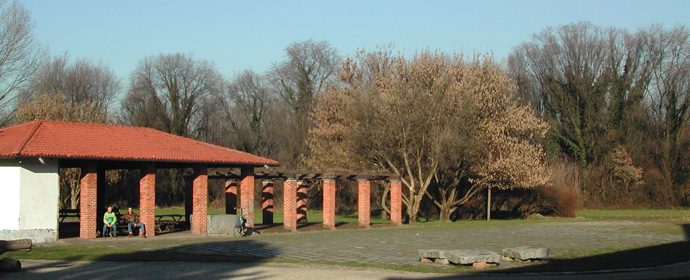 This park is all about the woods, shrubs, flowers, and natural vegetation. It was started and has continued to develop alongside the Urban Forestation Center, located in the park of a renovated 15th Century farm—Cascina San Romano. It has a water garden and a picnic area, in which you can reserve a portico for parties or barbecues. There are a number of paths—for running, biking and horseback riding—which actually take you beyond this first area, past numerous farms, urban gardens, lakes and waterways, to another park: "Parco delle Cave."