You're probably well aware of the big aperitivo culture in Italy by now, if not, it's time to get on board. What better place to embrace this Italian phenomenon than Milan – the birthplace of aperitivo and, therefore, the city that does it the best.
There's no real specific "Milanese drink" to have at aperitivo time, but you'll quickly notice many people drink either Aperol or Campari spritz, Prosecco or some other wines, or cocktails. In general, the type of drink you order will depend on the type of bar you go to as there are many specialized bars around. As far as aperitivo etiquette goes, you can fill up your plate with snacks as many times as you like, no one will really keep tabs on you – but, for your own dignity, don't pile up a mountain of food on one plate, and don't run to be the first one at the table when you see a fresh batch of pizzette coming out.
In an attempt to make your search for some great aperitivi in Milan a bit easier, we've put together a short guide to some of the best aperitivo spots around the city.
Bar Basso
via Plinio, 39
Cocktails: €8 Euro at the bar, €10 at a table
Web: www.barbasso.com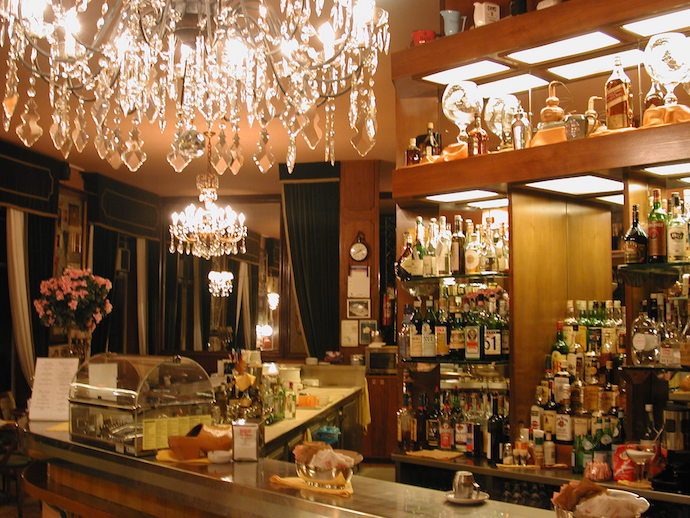 Dating back to 1947, Bar Basso is known for its signature cocktail, the Negroni Sbagliato, as well as for being the first bar in Milan to have introduced the "aperitif" to everyday citizens who weren't able to lounge around enjoying cocktails in fancy international hotels. Apart from serving flawless, sophisticated drinks, Bar Basso's aperitivo includes classic Italian aperitivo snacks to munch on such as olives, potato chips and nuts.
Cantine Isola
Via Paolo Sarpi, 30
Price: 6€-10€
Facebook page: (https://www.facebook.com/CantineIsola)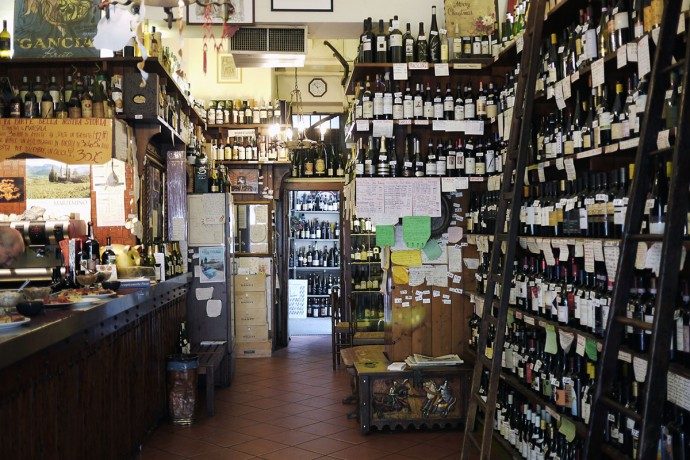 "The soft extractive note of an aged cork being withdrawn has the true sound of a man opening his heart". This famous line by William S. Benwell is perfectly fitting for this lovely and small place situated in Via Paolo Sarpi, in the heart of Chinatown in Milan. Each evening hundreds of people come to Cantine enjoy a great glass of Italian wine from all over Italy as well as around the world. Do not miss Tuesday evening when a poem is read during traditional Italian aperitivo, a romantic moment to share with your loved ones.
Carlo e Camilla in Segheria
Via Giuseppe Meda, 24
Price: 9€
Web: www.carloecamillainsegheria.it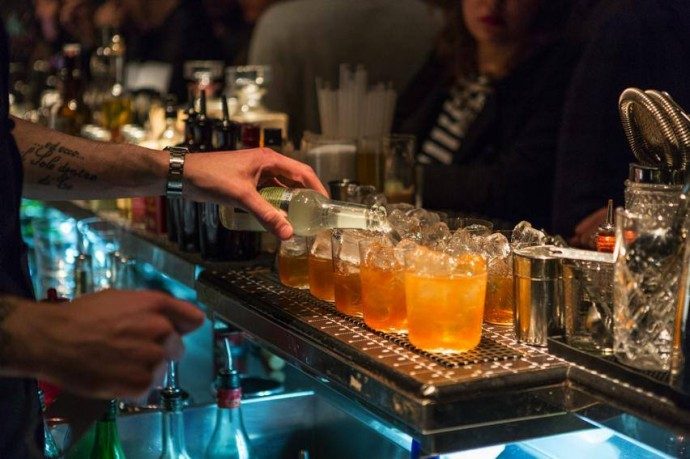 Founded by Chef Carlo Cracco, this quite and stylish new place on via Meda is perfect to enjoy the most amazing cocktails prepared by the supervisor, Filippo Sisti who uses a large variety of spices, a trip for all the senses. Try one of them and you will fall in love with its unique flavour.
The use of high quality raw materials, selected according to the seasons and the genuine taste make this place one of the most elegant and sophisticated locations and restaurants in Milan.
Ceresio 7
Via Ceresio, 7
Price: Depends on the drink
Web: www.ceresio7.com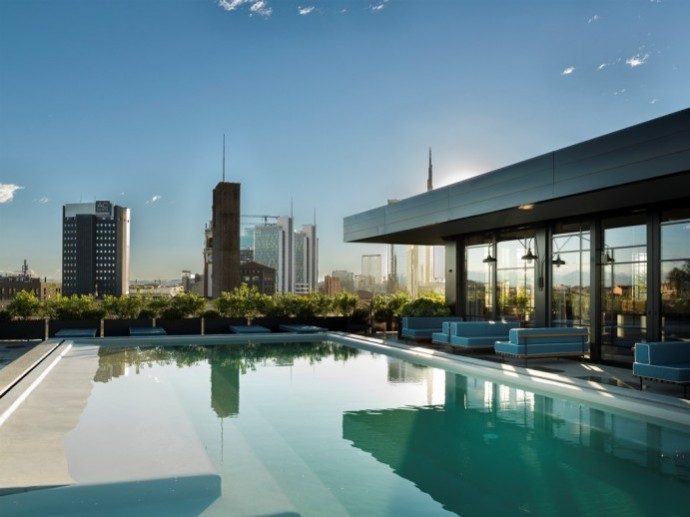 Located on the rooftop of a skyscraper building, Ceresio 7 welcomes its guests with an elegant atmosphere and a stunning view. It has a prestigious collection of spirits and variety of drinks on offer as well as a typical Italian aperitivo. Cocktails prepared use classic American recipes  but have a strong Italian twist. The bar features two lounges, as well as some poolside tables and cabanas. Hello summer!
Cinc
Via Formentini, 5, Brera Milano
Price: €8-12
Web: www.cincbrera.it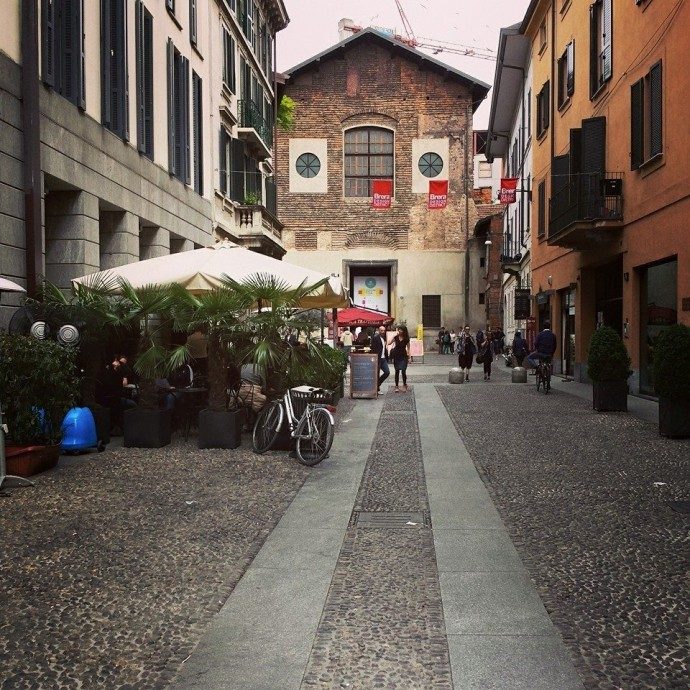 Located in beautiful Brera area in Milan, Cinc certainly manages to romance its customers. With a few tables outside on the cobble stone street, the vibe is relaxed yet somewhat vintage and elegant. The aperitivo accents the cocktails with peanuts, potato chips and mini hamburgers- a bit different than a usual buffet. Due to its location being popular for tourists, you can expect to pay a little more here than in other areas but the setting, service and experience makes it worth it.
Deus Cafè
Via Thaon de Revel, 3
Price: Depends on the drink
Web: www.deuscustoms.com/cafes/milan/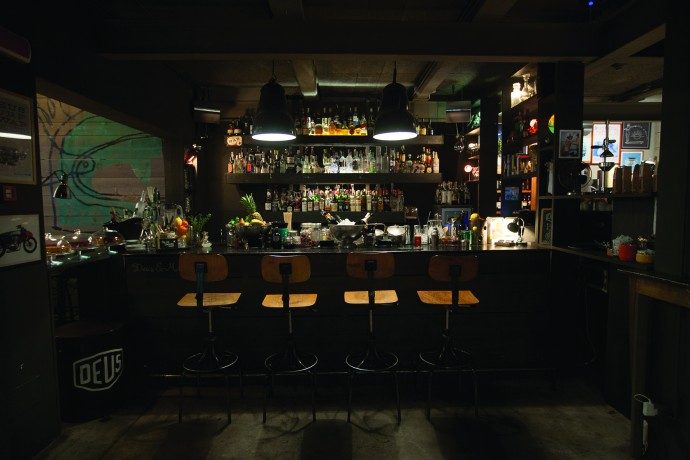 Deus Café, is adjacent to the shop, Deus Ex Machina – the perfect place for those seeking an interesting way to spend their time, whether it be with food, art, music, surfboards, motorbikes, inappropriate movies, swap meets or hip clothing. At Deus Café the crowd varies, you can enjoy an aperitivo with a mix of people from different walks of life.
Fonderie Milanesi
Via Giovenale, 7
Price: €10
Facebook Page: www.facebook.com/pages/Fonderie-Milanesi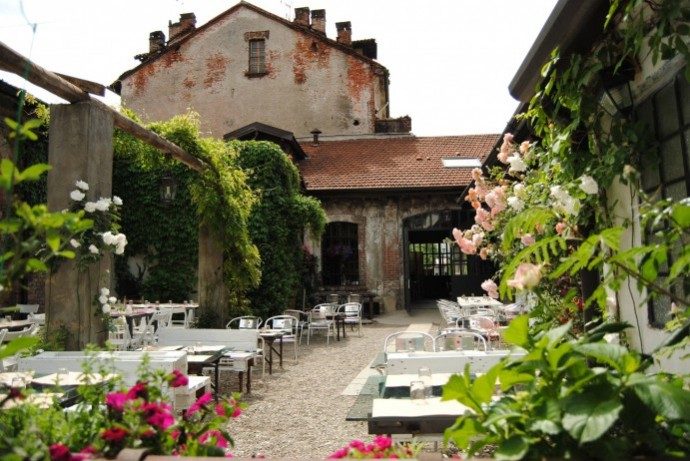 Quite a hidden spot, but once you've discovered it, you'll find it hard not to return. Set in an old factory, Fonderie Milanesi has kept the industrial feel alive, but added some great artistic interior décor creating a cosy feel. The courtyard is perfect for the warm summer evenings in Milan and makes you feel as if you've escaped from the city. Aperitivo here consists of gourmet salads, pizza, riblets, potato dishes, to name but a few.
Globe Restaurant and Lounge Bar
Piazza 5 Giornate, 1
Price: €11-16
Web: www.globeinmilano.it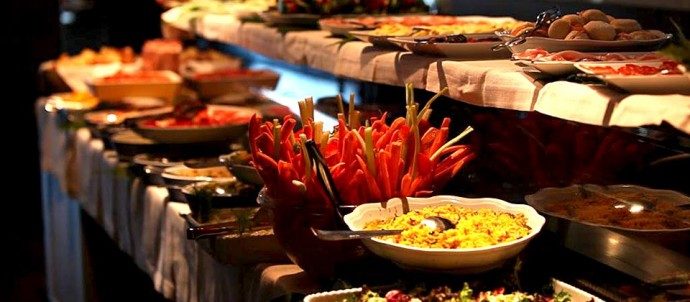 A long-time tradition for many Milanese is stopping by Globe for aperitivo with some friends at sunset. Here you'll find a blend of people, ranging from business people to university students, and a rich buffet with a selection of freshly-cooked specialties including the real deal Italian pizza and focaccia, cold cuts, vegetables, vegetarian dishes, fruit and much more. All these tasty treats can be complemented by a cocktail, Italian or French wines, sparkling wines or draft beers.
Lacerba
Via Orti, 4
Price: 8€
Web: www.lacerba.it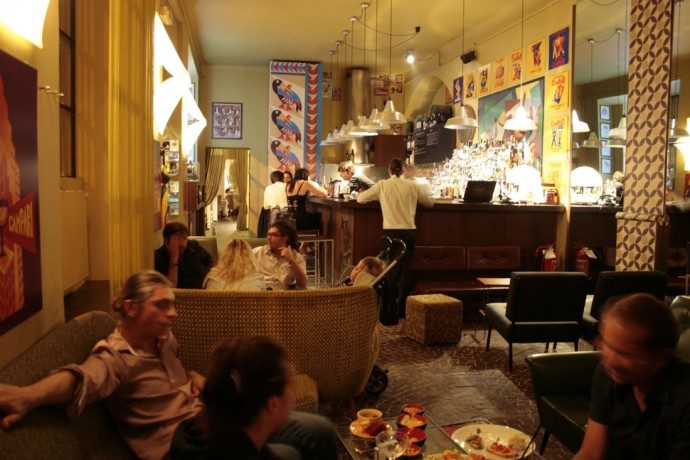 Situated in a quiet and old street in Porta Romana, far from city chaos, Lacerba Restaurant, is a mix of young and old, vintage and cutting-edge. The relaxing environment makes for an excellent aperitivo and their serious cocktails are the reason why this place is loved by locals and frequented by repeat customers. Lacerba offers many nice seating locations but you can sit down directly at the bar and ask the friendly staff for the best cocktail and snacks they offer.
Living | Liqueurs & Delights
Piazza Sempione, 2
Price: 9€
Web: www.livingmilano.com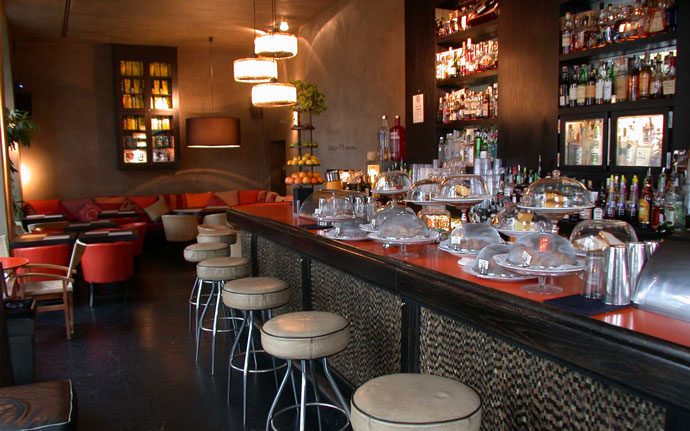 Everyone in Milan loves Living, a super trendy place located in one of the most vibrant locations in Milan, right next to the Arco della Pace on Corso Sempione. Enjoy a great aperitivo from 18.00 to 21.30 in a nice lounge with house music and really great cocktails. Here, you can find high quality food products, nice bar ambiance and a big terrace outside to enjoy warm summer evenings full of cool people.
MAG Café
Ripa di Porta Ticinese, 43
Price: 8€
Facebook page: https://www.facebook.com/pages/Mag-Cafè/174984759255152)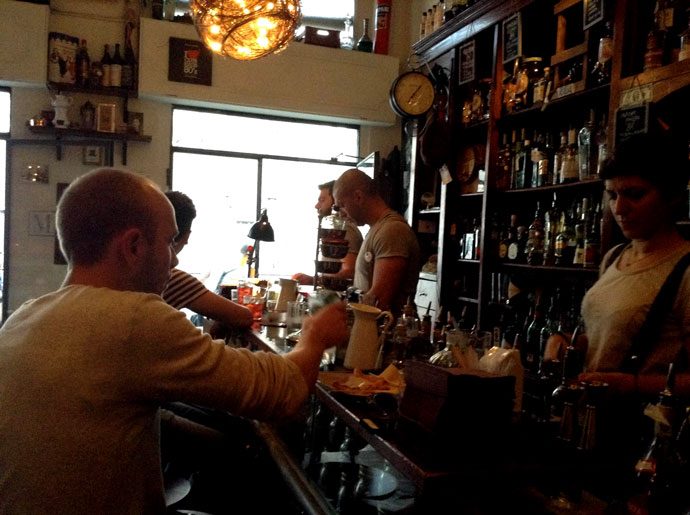 Located in the heart of Movida Milanese – Navigli, Mag Cafè is an elegant cocktail bar with a relaxed atmosphere. Fine wine selections and traditional drinks are served accompanied with jazz music played in the background. Mag Cafè is a small cafè perfect to enjoy the aperitivo with friends in a cool and popular location tasting different original dishes.
MOM Cafè
Viale Montenero, 51
Price: 5€-10€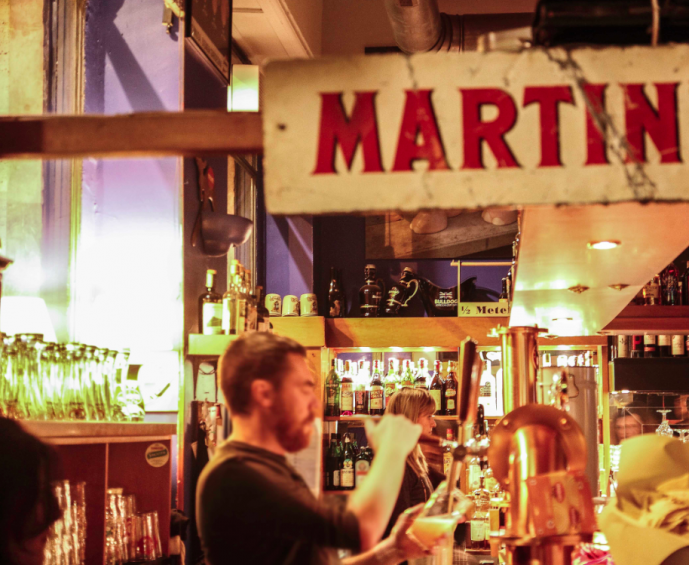 Located in Porta Romana, Mom offers one of the best Bloody Marys in the city. It's always hopping with an energetic crowd that stretches from the bar onto the pavement. It has been one of the go-to spots for more than 15 years and continues to be a landmark among milanese for its incredible range of aperitivo snacks served each evening, great cocktails, and unique decoration. Prices are modest and everyone has a good time.
Ostello Bello
Via Medici, 4
Price: Depends on the drink
Web: www.ostellobello.com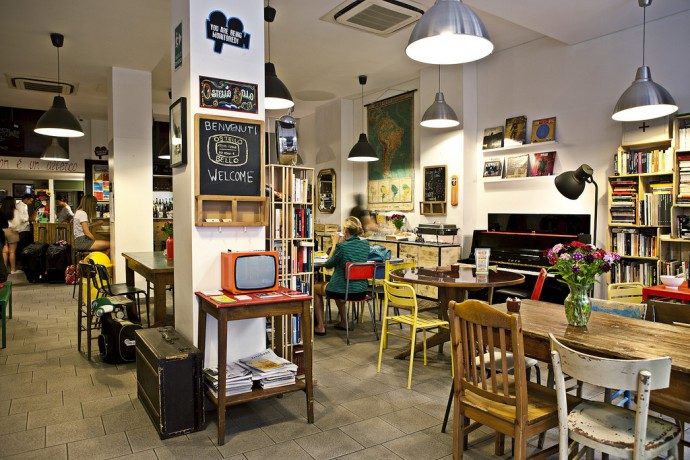 A favorite spot for locals as well as travellers and expats, Ostello Bello serves good quality food ranging from pastas, salads, bruschetta with a selection of humus and spreads, and at really affordable prices. In addition, due to the fact that it's a hostel, you can expect a lively, friendly atmosphere with people and filling up the street outside the hostel. Here, you're bound to have some cool (and sometimes weird) conversations and meet new people from all over the world.
AUTHORS:  Valentina Bosetti & Ilse van den Berg