There is something about Il Tasca that makes me fall in love (all over again) with the Italian way of life. Which in fact is a contradiction as the place itself is a Spanish tapas bar. But. There is something about the way people socialize at Tasca that makes me realize why I moved to Italy in the first place. It's easy breezy. It's laid back. It's the good life. People meet up at Tasca regardless it being a Wednesday after work or a Saturday before dinner. And they all have one thing in common; they are up for a good time.
Outside Tasca there's continuously a crowd of people gathered, not always because it's packed inside but because that is simply how you do it at Tasca – you go there to see and be seen and you simply have a much better overview from the outside. The inside on the other hand is rustic but at the same time cozy. The brick walls, the simple wooden furniture and the small details make you feel like you're in the Spanish countryside and although you're in central Milan.
When asking Erwan, the current owner, why he thinks the bar is such a popular place his immediate response is that Tasca is for everyone and has a friendly atmosphere: "both our costumers and staff are from different nationalities and you come here to have a nice conversation in whatever language you want". He then continues, "we have by choice not installed Wi-Fi because you're not here to speak to you phone, you are here to speak to your friends". And he's right. People do mingle at Tasca and the good reputation of the place makes it easy to meet new acquaintances and expand your personal network.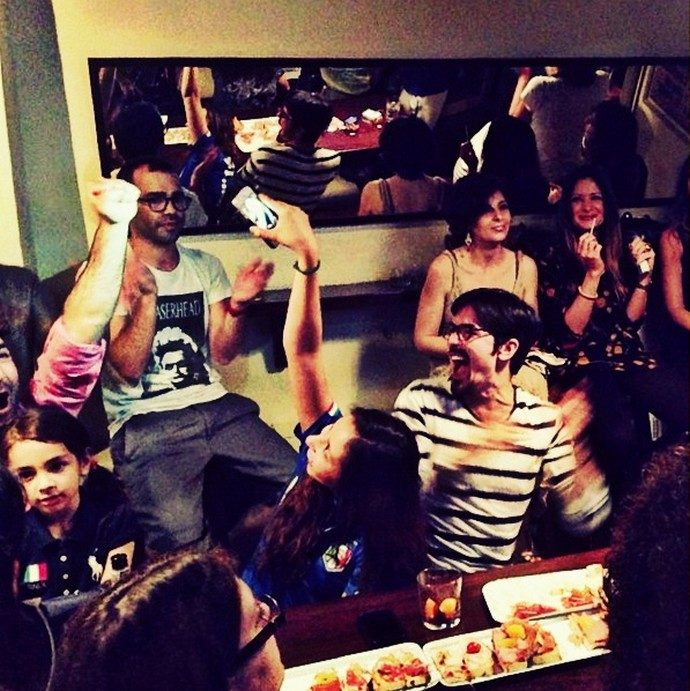 I never paid more than 6 Euro for a glass of good quality wine at Tasca, and coming from Sweden where taxes on alcohol are high, I find the place not only enjoyable but also affordable. For aperitivo the wine is served with a small plate of tapas such as grissini, olives, ham and cheese. If you are still hungry after that it's highly recommended to sit down in the restaurant or in the Bodega del Tasca next door for a full Spanish immersion. The dining menu includes more refined tapas ranging from salty squid with prosciutto s well as beef tartar, to hummus and eggplant rolls with tuna crème filling. There is of course also the opportunity to focus on charcuteries and cheeses including Pata Negra aged for 48 months and the ever so popular Manchego cheese. And of course, it would be a shame walking away from Tasca without having ever tried their sangria!
Simply said, Tasca offers everything you need for a guaranteed good time. With its central location, its friendly staff and the attention to detail both in their food and their décor it's a place people come back to – and I'm sure you will do too!
Address
Corso di Porta Ticinese, 14
Opening hours
Monday-Friday: 12:30pm-1:00am
Saturday: 6:00pm-1:00am
Sunday: Closed
Contact details
Phone: 02 837 69 15
Website: www.iltasca.it