The Culture Wears Prada
It seems that out of nowhere, the Fondazione Prada art center has risen. What used to be an unknown wasteland in southern Milan has just unveiled a new realm created by an encounter of the old and new worlds.
Rem Koolhaans' architecture firm OMA redesigned seven existing  distillery buildings and warehouses adding elements and transforming the old structures into three new buildings (a cinema, a gallery, and a tower, still under construction) to create a complete experience of 19,000 square meters of art.
Shimmer, reflections, rough and raw, one wall flows to another by a dynamic choice of materials. Materials you have never seen before placed next to the old industrial cement, that brings you from the huge installation hall to the cinema that mirrors perfect lines. It feels as if every piece is somehow connected to the sky. Even the sounds of the construction site and their hanging metal pieces in the air seem to be a part of one whole art piece within the contemporary art complex. Genius.
"Slight Agitation" – an exhibition by Pamela Rosenkranz's explores physical and biological processes and its effects on art. The focal point of this exhibit is Infection, an instillation that focuses on a neuro-active parasite, which affects 30% of the world's population. Rosenkranz's installment incorporates smell, light and temperature to bring your mind and body on a journey of complete immersion in this interactive art. Slight Agitation will be transforming the Cisterna from 9 February – 14 May 2017.
"Extinct in the Wild" is an award-winning exhibit by the American artist Michael Wang. The public will have the opportunity to see flora and fauna that are considered "extinct" in nature and can only survive under human care. In the age of extinction, this project allows the public to experience plants and animals from around the world under one roof. Within the gallery, spectators will also find a series of 20 photographs taken by Wang, showing the species in their natural habitat before extinction. Extinct in the Wild can be seen in the Nord gallery from 9 February – 9 April 2017.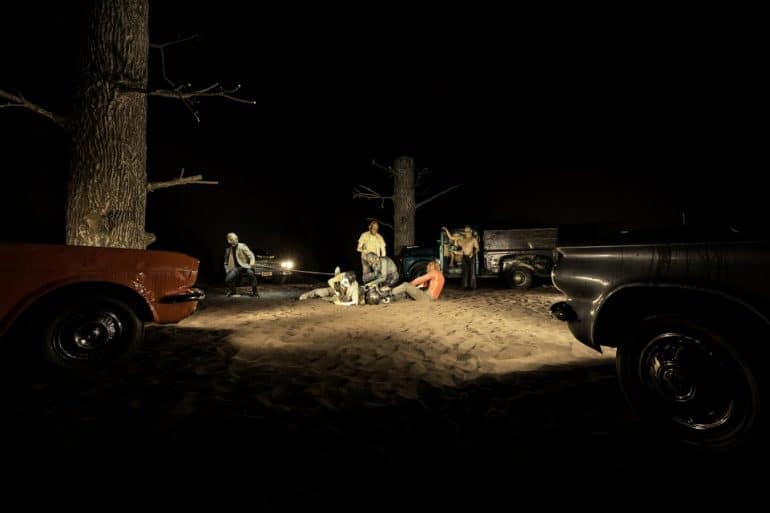 "Kienholz: Five Car Stud," open to the public in Milan from 19 May through 9 April 2017 and curated by Germano Celant, brings together a selection of artworks realized between 1959 to 1994 by Edward Kienholz and Nancy Reddin Kienholz, including the well-known installation that gives the show its title.
The exhibition "Give Me Yesterday" includes works by 14 Italian and international photographers who explore photography as a way to document ones life over a period of time. This exhibit is divided into two parts that fill the walls of both levels in the Osservatorio and intend to bring its audience on a journey of many people's lives.
When the public enters the exhibit they will find themselves in a series of projects by multiple photographers including; Ryan McGinley and Leigh Ledare. Selected projects merge natural movement and staging to introduce their audience to a new concept called the "new photo diary". The second floor looks passed spontaneity and instead incorporates staging and intentionality to detail their everyday.
Give Me Yesterday will be found in the Osservatorio from 21 December 2016 – 12 March 2017.
The Fondazione Prada also included the addition of a cafe designed by film director Wes Anderson, named Bar Luce.  With the aesthetic style of a typical Milanese bar from the 50s and 60s, Anderson added some details from the city's iconic Galleria Vittorio Emanuele. Its vastness and versatility altogether keeps you guessing, just as an ever- changing cosmopolitan city does. And here it stands as overwhelming proof that Milan is definitely one of them.
Fondazione Prada
Largo Isarco 2 (Lodi)
Opening times:
Mon, Wed, Thu: 10 am – 7 pm
Fri, Sat, Sun: 10 am – 9 pm
Closed on Tuesdays
Entrance: 10 Euro
Bar Luce opening times:
Mon, Wed, Thu: 9 am – 9 pm
Fri, Sat, Sun: 9 am – 10 pm
Closed on Tuesdays.