Cross sharp, cutting edge designer wear with a precision, modern eye, and you get Antonioli.
For those who like their designer wear utilitarian, architectural and international, drop into Antonioli. In a cavernous moody space, designer threads hang like exquisite skins from the sparse railings. The store has been established for more than 25 years, initially beginning in a different location. This space was developed from the skeleton of a 1920's silent movie theatre, and the clever interior design combines some of these features with the ultra modern.
The approach to the design of the store is also a summary of the Antonioli sartorial taste. Understanding that fashion is fluid, the choice of designers is collated with the idea of withstanding time- style for now and for later. Balmain, Rick Owens, Yohji Yamamoto and Proenza Shouler have been big names of the cutting edge fashion scene for years now, and their pieces are hand picked in Antonioli eschewing trends and focusing on ongoing wear. Valentino, Moschino and Giuseppe Zanotti round out the Italian connection, adding in class and unmistakable craftsmanship.
Of course, in Milan there is no fashion without art, and the Antonioli boutique has an enviable range of contemporary photographic prints available for purchase. Focusing on the surreal, subversive and divine, photographers such as Wendy Bevan, Kenny Kenny and Daniele Innamorato are in amongst other names of the current scene. By way of selecting the most avant guard yet subtle styles and designers, Antonioli have found a fashion language that will go from yesterday until well into the future.
For those wishing to access the Antonioli style from elsewhere, the online shop is a rabbit hole of cool. Completely in tandem with the attitude that is available in store, the online shop could turn one Milanese in one click. Keeping up to date is key, check out the 'runway' section of the page and find many pieces available for purchase straight off the catwalk. As well as this, the 'journal' section will keep you completely informed about the sharpest new trends, featuring interviews with designers and live coverage from fashion shows around the globe. Most orders will have free express shipping, so from perfume to jewellery, shoes and bags, Antolioli could be arriving at the  door before the browser window is closed!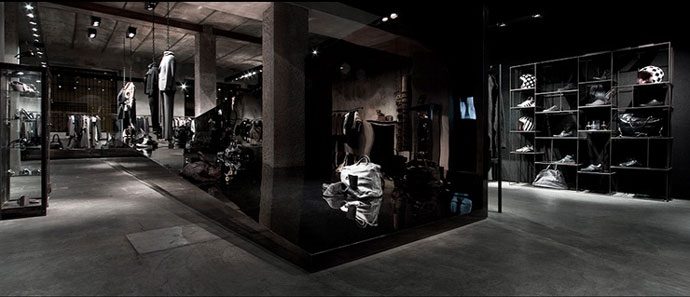 Address
Via Pasquale Paoli, 1

Opening Times 
Open Mon 3pm-7.30pm, Tues-Sun 11am-7.30pm
Contact / Shop Online
www.antonioli.eu