First there was the mother, Elita, a cultural association bursting with desire to create, shape and connect. Everything kicked off with a massive music event in 2005, in honor of the annual Design Week in Milan. Soon it expanded into art exhibitions, workshops, family events, new design initiatives etc. to enrich the cultural life of the city utilizing places never before or rarely used. Events with a dynamic mixture of different kinds of art and media forms were an instant success and by the end of 2012 several video, art, photo and musical productions were realized.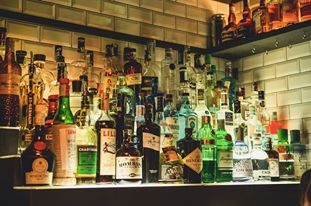 In 2013 Elita Bar, the permanent residence on a side street of the vibrant Naviglio Grande that was born from the party, concert event concept.  Elita Bar is now the hub of this initial creative energy, or as the group itself likes to describe it: the Elita community's "fun-base."
Needless to say the music is always on point and the party often extends to the street. The art director of the place, Alioscia Bisceglia famous in the Italian music scene, is not the only one who is making waves in the professional world, the kitchen and bar are also in good hands. The bar is proud of their Argentinian cocktail guru, Miguel Angel Palau. And rightly so, considering his cocktails have already earned a reputation among the locals. The menu is original and has been carefully put together, offering classic Italian and international (Thai, Mexican, Japanese) dishes and snacks with unique twists. The chef Eugenio Boer thinks there should be more places like this in Milan, where great chefs driven by curiosity and creativity are able to serve quality food (even to large amounts of people) in a more relaxed atmosphere.
For those who like less-crowded locales, get in before the "dopo-cena" brouhaha begins. If the interesting people, great atmosphere with funky, tasty food and drinks aren't enough, I reckon you could fall in love with the place simply because of its super friendly staff who serve tapas to tables each night with a smile. Word on the street is…it's worth queueing in!
Address
Via Corsico, 5 (Naviglio Grande)
Opening Times
Tue-Sat 5pm-2am
Contacts