The irresistible Brera will beguile you from your very first stroll through this quintessentially Milanese neighborhood. Located just a few steps north of the historic center, the Brera sat outside Milan's city walls  during the tenth century and was military property, its name derived from the old Lambardic word "brayda," which meant a land expanse cleared from trees. Today, the Brera promises excellent people watching, alluring boutiques, imaginative galleries and cozy cafes, and its artsy, bohemian vibe draws many comparisons to Paris's Montmartre.
Firstly, a walk through the Brera requires comfortable shoes as the stone paved streets that comprise the district's core can do a number on both your soles and footwear.  The neighborhood's main attraction is the palatial Palazzo Brera (Via Brera 28), home to Milan's botanical garden, an astronomical observatory, the Braidenese National Library and, most importantly, the Brera Academy of Fine Arts (Accademia di Brera) and the Brera Art Gallery (Pinacoteca di Brera), home to works by many Italian and international masters such Caravaggio, Raphael, Titian, Tintoretto and Reubens.  Francesco Hayez's The Kiss is among the pinacoteca's most famous paintings.
Just across the street from the stunning palazzo you'll find long established cafes that served as haunts for artists and intellectuals during the last century such as Bar Brera (Via Brera 23) and Jamaica Bar (Via Brera 32), the latter of which opened in 1911.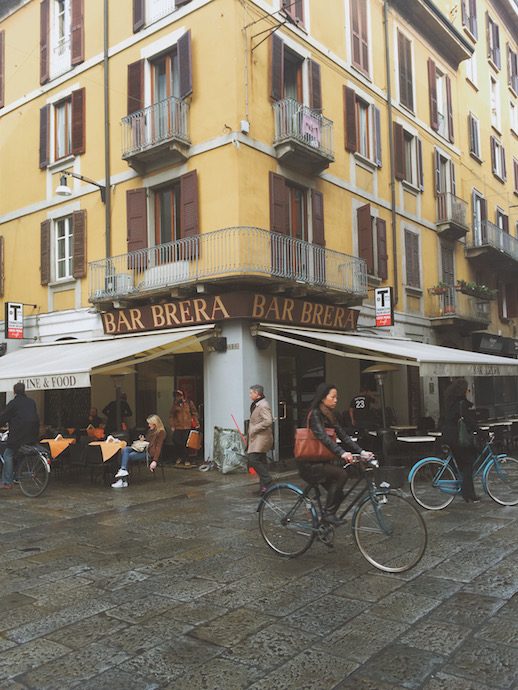 As you make your way through the area, you'll find a number of specialty shops, boutiques, artisan shops and art galleries. The Brera is synonymous with design and houses 120 dedicated shops, and during the annual Salone Mobile, downtown events occur in this district.
Boutique Bagutta (Via Fiori Chiari 7) specializes in "Made in Italy" menswear, womenswear, accessories and authentic tailoring while Angela Caputi Giuggiù (Via Madonnina, 11) sells handcrafted jewelry from its eponymous designer whose accessories been worn by fashionistas as well as on the big screen and red carpets.
Those who have a soft spot for vintage won't want to miss Cavalli e Nastri (Via Brera 2), which sells some of the best old garbs, garments and adornments from designers such as Chanel and YSL, all in optimal condition.
Fioraio Bianchi Caffé (Via Montebello, 7), a 40-year-old caffé and flower shop owned by Raimondo Bianchi, serves an Italian menu with French influences, or drop by Di Viole e di Liquirizia (Via Madonnina, 10), a pastry shop that sells cupcakes, macarons, cakes and plenty of other confections that will satisfy even the most insatiable sweet tooth.
And of course, an Italian neighborhood isn't complete without a church, so pop into San Marco (Piazza San Marco, 2) which dates back to the 13th century and displays a replica of Caravaggio's Deposition.