With more than 2,000 exhibitors this year, Salone del Mobile (aka the Milan furniture fair) has hundreds of thousands of people from all over the world flocking to Milan for this week full of events, exhibitions and presentations. The Salone is now into its 56th year and is still the biggest date on the world's furniture calendar, and everyone who's anyone on the international furniture design and manufacturing scene comes to this leading venue to keep up with the latest designs and developments in the field.
When Salone first launched in 1961 the original focus of the fair was Italian furniture. As time passed, designers from different countries have been introduced and the fair became international. This year the number of foreign exhibitors has once again risen, making up almost 30% of all the manufactures at the fair.
Covering over 200,000 square meters this year, Salone will split into different design sections making for an easy to navigate floor plan and a full insight into the world of furniture and furnishing accessories. Last year 372,000 visitors attended the successful 2016 edition, and this year is said to be even better. From bedrooms to dining rooms, and garden furniture, to hall furniture, Salone has it all. So if you want the best of Italian and international furnishing, mark this event in your calendar!
The Salone Internazionale del Mobile is split into three sections: Classic, Design and xLux, the latter dedicated to timeless luxury reworked with a contemporary touch, which was launched successfully last time round.
The International Furnishing Accessories Exhibition and the biennial Euroluce and Workplace3.0 taking place alongside the Salone Internazionale del Mobile offer enormous synergies.
The strapline "Be the first to see the latest" affirms the role of an event that over time has become a "must-see", a global benchmark for the furnishing and design sector.
From Salone to the city: read here the list of events in the city
www.salonemilano.it/en/manifestazioni/eventi-appuntamenti/lista-eventi-del-salone.html
From FuoriSalone click here: www.mimag.it/fuorisalone-2017/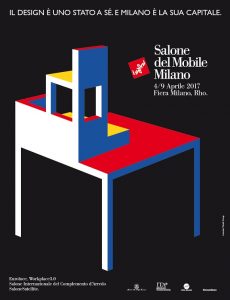 Salone Internazionale del Mobile – Milan
April 4th – 9th
9:30am – 6:30pm
Milan Fairgrounds, Rho (Milan)
Entrance gates: Porta Est, Porta Sud, Porta Ovest
Open to the general public on Saturday 8 and Sunday 9 April