Cycles of Choreografic Gestures conceived by Virgilio Sieni
On September 18, 2015 the Fondazione Prada presents "Atlante del gesto" (Atlas of gesture), choreographed by the well-known Virgilio Sieni. Atlante del gesto is a series of choreographed actions that expands your knowledge and understanding of visual arts. With over 74 professional and unprofessional dancers of all ages, this series takes place both in the interior and exterior of the building.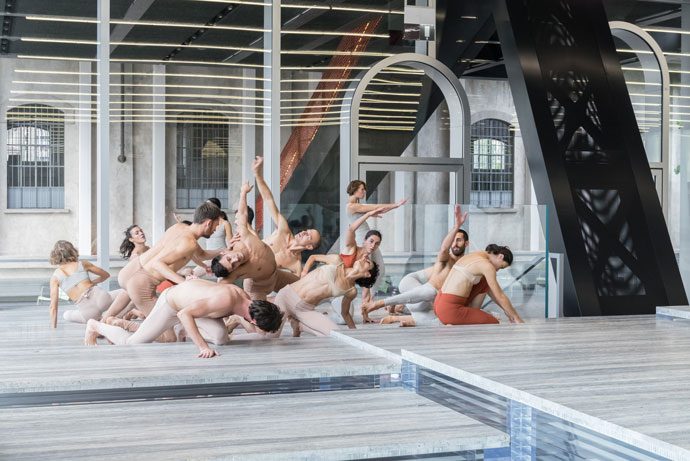 Ela Bialkowska, OKNOstudio
When you start to walk around and experience the series, you notice travertine platforms altered and supported by layers of transparent acrylic of different heights. OMA set up this display with the intention to move you through the series and experience each dancer's take on their personal struggle through body language. The designer of the display, Virgilio Sieni says that his hope is to transform the exhibition space into a "landscape of gestures".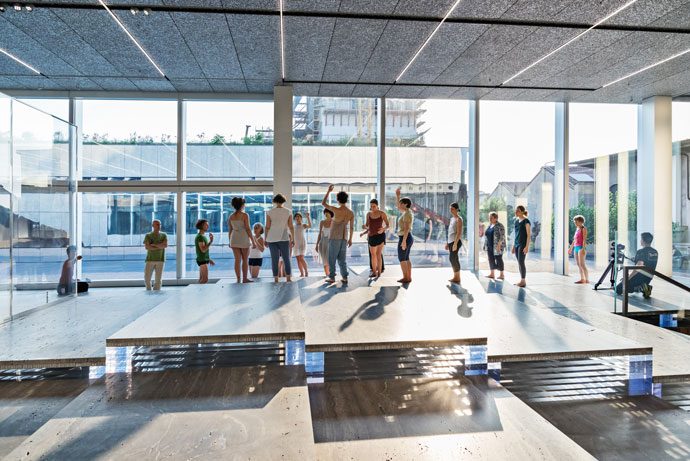 Ela Bialkowska, OKNOstudio
Atlante del gesto offers a variety of different visual arts encounters including: choreographic cycles (every Friday and Saturday from 9 pm), research phases (everyday, from 11 am to 1 pm and from 5 pm to 8 pm), and screenings (everyday from 2pm to 4 pm). The series also comprises solo choreographed dancing in the open air courtyard between the Podium and the Cinema.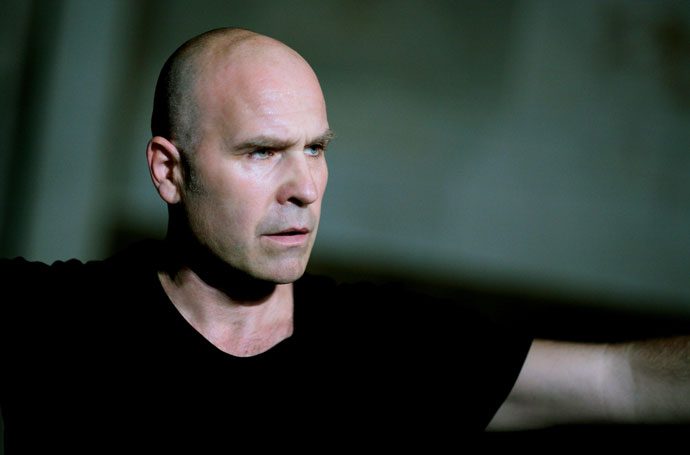 Virgilio Sieni. Photo: Marcello Norberth
The project consists of five separate actions chosen by Virgilio Sieni, Origine (Origin), Rituale (Ritual), Annuncio (Announcement), Gravità (Gravity) and Nudità (Nudity). Origine revolves around mothers and their sons and examines the intimacy, suffering and beauty of the relationship. Mothers and their children between 10-80 forms a landscape of gestures exploring the concept of gender and identity. Gravità exemplifies the power of balance between forces by exploring  the importance of gravity. Nudità is a combination of minimal movements where naked bodies move together focusing on the beauty of simplicity.
Atlante del Gesto, Rituale. Photo: Rocco Casaluci, 2015
For those who want to learn and join in on the creative fun, Atlante del gesto also offers workshops for young dancers between the ages of 10 and 13 from September 20th to the 24th and are open to all from September 29th to October 2nd in the Biblioteca building.
Atlante del gesto will be open until October 3, 2015. Admission is free but you must book your tickets ahead of time.
Fondazione Prada
Largo Isarco 2 (Lodi)
Choreographic cycles (every Friday and Saturday from 9 pm)
Research Phases (everyday, from 11 am to 1 pm and from 5 pm to 8 pm)
Screenings (everyday from 2pm to 4 pm)
Entrance: Free (need tickets in advance)